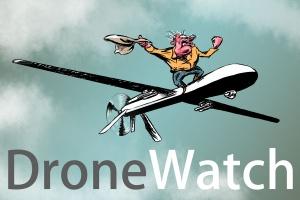 Many discussions about the use of drones center on whether using drones is "moral," that is, does it satisfy just war doctrine? Is the use of an unpiloted drone morally different from a jet fighter, a helicopter gunship, or an infantryman with a rifle?
Scott Shane, national security reporter for the New York Times, recently attempted to argue The Moral Case for Drones. Frankly,his case is weak. Shane dismisses as "baggage" a number of the most important arguments: "their lethal operations inside sovereign countries that are not at war with the United States raise contentious legal questions. They have become a radicalizing force in some Muslim countries. And proliferation will inevitably put them in the hands of odious regimes." Then the rest of the column deals with whether or not civilians are being killed.
He concludes that drones kill far fewer civilians than other forms of military force, citing their precision at hitting the targeted person without killing civilians, but the definition of who he considers a civilian is unclear. It appears from the numbers he uses that he accepts the government's definition that any male in the area of a drone strike is de facto a militant. Nonetheless, he concludes by quoting Henry A. Crumpton, then deputy chief of the C.I.A.'s counterterrorism center, on the development of armed drones as a precision weapon with the benefit of killing fewer civilians that in previous wars:
"We never said, 'Let's build a more humane weapon,' " Mr. Crumpton said. "We said, 'Let's be as precise as possible, because that's our mission — to kill Bin Laden and the people right around him.' Since then, Mr. Crumpton said, the drone war has prompted an intense focus on civilian casualties, which in a YouTube world have become harder to hide. He argues that technological change is producing a growing intolerance for the routine slaughter of earlier wars. "Look at the firebombing of Dresden, and compare what we're doing today," Mr. Crumpton said. "The public's expectations have been raised dramatically around the world, and that's good news."
Political analyst Jeremy R. Hammond wrote a scathing response in Foreign Policy Journal, referring to Shane's piece as The Immoral Case for Drones.
He first addresses the "baggage." On the question of international law: "the case that drone strikes—which are being conducted in Pakistan, Yemen, and Somalia—are illegal is cut and dry. … They are incontrovertibly illegal."
On their radicalizing effect on Arab/Muslim countries, he wonders: "how a use of violence that produces the opposite result of that ostensibly intended can possibly be at the same time a "moral" means by which to address the threat of terrorism." And, on the likely proliferation of drones, he asks: "how the U.S. setting a dangerous precedent that will "inevitably" be followed elsewhere can possibly at the same time be a "moral" thing to do."
The bulk of the response, following Shane, is addressed to the issue of civilians. He provides a lengthy analysis of the numbers, exegetes the semantics—we read in news reports of "suspected militants" being killed, but only "known civilians," when a person could actually be both.
"Shane's willingness to accept the Obama administration's standard of counting any unidentified adult males as 'terrorists' and to employ that standard in order to claim that 'just three' civilians have been killed this year—as though he or anyone else knew for a fact that the other 149 were 'terrorists'—is absolutely astonishing. That he could adopt this standard as the foundational premise for making the "Moral Case for Drones" is even more appalling."
I take as a given that civilians are inarguably being killed by drones, but that it is largely impossible to know how many. The illegality of extrajudicial killing of targeted individuals in sovereign countries that the U.S. is not at war with, the radicalizing effect it has in those countries, and the frightening prospect of a global proliferation of drones, added to the unknown number of civilian deaths, make finding a "moral case for drones" impossible.
Duane Shank is Senior Policy Adviser for Sojourners.