Wednesday evening, a saucer-shaped object was spotted on a flatbed truck being transported on the Capital Beltway. Some drivers posted photos on Twitter and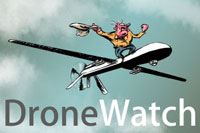 Facebook, some called the police, wondering why a UFO was being moved on the highway.
Turned out it was an experimental drone dubbed the X-47B being taken to the Patuxent River Naval Air Station in Maryland for test flights. What's new about it? According to a military press release:
"The X-47B is the first unmanned vehicle designed to take off and land on an aircraft carrier. As part of the program's demonstration, the X-47B will perform arrested landings and catapult launches at Pax to validate its ability to conduct precision approaches to the carrier."
The military warned that the drones are likely to be seen flying around in the coming months. And as one local resident tweeted, "Don't worry, that's not an alien spacecraft, just a flying military robot. …"