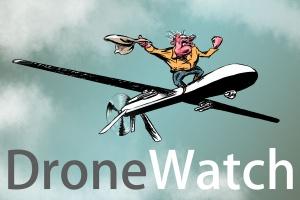 This weekend saw protests on both sides of the Atlantic against drone killings.
In the U.S., more than 250 people marched on an Air National Guard Base at Hancock Field in Syracuse, N.Y. At the end of a funeral procession, 30 people were arrested at the gates of the base. According to the Syracuse Post-Standard:
"Protesters pounded drums, chanted and carried mock coffins. A baby doll smeared with fake blood was suspended from a tall poll carried by one protestor. A sheriff's deputy speaking through a bullhorn warned protesters laying on the driveway in front of the gate to get up off the ground or face arrest for disorderly conduct. After they refused, the protesters were handcuffed and escorted to a Sheriff's Department van."
The protest was organized by the Upstate NY Coalition to Ground the Drones & End the Wars.
In the U.K., 700 people participated in a demonstration outside a Royal Air Force base north of London to protest the U.K.'s use of armed drones in Afghanistan. The action came two days after the news that the Royal Air Force had begun flying drones from the Waddington Base. CNN reported:
"People are pretty upset about the idea that Britain will be developing this drone warfare," said John Hilary, executive director of War on Want. … The coalition also includes members of the Campaign for Nuclear Disarmament, the Drone Campaign Network and Stop the War Coalition."