The Pakistani newspaper DAWN reported this morning that the National Research and Development Foundation (NRDF), a national NGO, has appealed to the U.S. to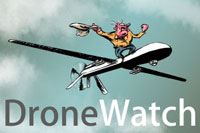 stop drone attacks. NRDF has been promoting polio vaccinations in the tribal area where the strikes occur. The appeal follows a Taliban decision to ban the vaccinations due to fear of their possible relation to CIA intelligence gathering for targeting drones.
Tehseenullah Khan, NRDF coordinator, told DAWN that "The ban will adversely affect 318,000 children in the two agencies." He continued, "Stoppage of drone strikes by the US could safeguard children against host of diseases. Fata [the Federally Administered Tribal Areas] is the only active hub of active polio virus transmission in the country that has contributed more than 50 per cent of the total polio cases this year."
Got something to say about what you're reading? We value your feedback!