In 2010, Shahzad Akbar, an attorney and founder of the Pakistani Foundation for Fundamental Rights, began filing lawsuits in Pakistan on behalf of drone strike victims.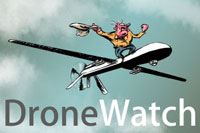 His work, according to MSNBC:
"has raised awareness of the strikes among the general Pakistani population – at the same time anti-American sentiment from a failing alliance with the U.S. is on the rise. He said his mission is to seek justice on behalf of innocent civilians killed in the drone attacks."
When he began, little was known in Pakistan about the strikes, most of which take place in the remote, western tribal area. But now:
"Today, drones have become a political touchstone, regularly decried as part of politician's campaign speeches, prominently featured in fiery protest rallies, and sitting squarely at the center of a diplomatic war of words between the U.S. and Pakistan. … Though public perception may help him to gain traction, Akbar said his cases are based on the evidence he's gathering from strike locations in coordination with communities in North Waziristan, the tribal agency in which the overwhelming majority of strikes have occurred."
What drives him to do this work?
"I believe in very simple principles that were taught to us by the West," said Akbar. "That everyone is presumed innocent unless proven guilty. So anyone who is killed in drone strikes, unless and until his guilt is established in some independent forum – that person is innocent."
Got something to say about what you're reading? We value your feedback!