More than four years ago, the U.K. Ministry of Defence bought 6 Reaper drones from the U.S. The Guardian reports.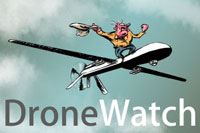 "The British military is increasingly relying on unmanned drones to wage war against the Taliban, and has fired more than 280 laser-guided Hellfire missiles and bombs at suspected insurgents, new figures reveal. … The Ministry of Defence says only four Afghan civilians have been killed in its drone strikes since 2008. However, it also says it has no idea how many insurgents have died, because of the "immense difficulty and risks" of verifying who has been hit."
Chris Cole, founder of the website Drone Wars UK, responds that it is:
"Kafkaesque of the MoD to repeatedly claim that only four civilians have been killed in UK drone strikes while at the very same time insisting they do not know how many people have been killed."
Got something to say about what you're reading? We value your feedback!