Robert Grenier was CIA station chief in Islamabad, Pakistan, on 9/11. He then played a key role in coordinating covert operations in Afghanistan, and was head of the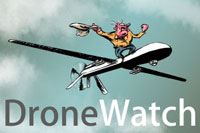 CIA's Counter Terrorism Center. In a recent interview, he spoke about the Obama administration's drone program:
"It [the drone program] needs to be targeted much more finely. We have been seduced by them and the unintended consequences of our actions are going to outweigh the intended consequences. … We have gone a long way down the road of creating a situation where we are creating more enemies than we are removing from the battlefield. We are already there with regards to Pakistan and Afghanistan."
Grenier went on to express particular concern about Yemen, saying that the popular anger being generated by drone attacks could lead to "the creation of a larger terrorist safe haven."