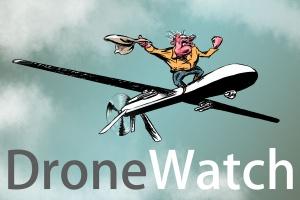 The Center for Constitutional Rights (CCR) and the American Civil Liberties Union filed a lawsuit yesterday against Obama administration officials for authorizing the targeted killings of three US citizens by drone strikes in Yemen last year. The Christian Science Monitor reports the complaint
"… charges that the US practice of maintaining "kill lists" that target suspected terrorists – including US citizens – violates the citizens' constitutional right to due process of law and the right to be free from unreasonable seizure by the government.
"This suit is an effort to enforce the Constitution's fundamental guarantee against the deprivation of life without due process of law," Jameel Jaffer of the ACLU said."
The suit was filed on behalf of the families of Anwar al-Awlaki, a US-born member of the militant Islamic group Al Qaeda in the Arabian Peninsula; Samir Khan, a US citizen since 1998; and Awlaki's 16-year-old son, Abdulrahman.
Pardiss Kebriaei, a CCR staff attorney, said in a statement:
"The US program of sending drones into countries in and against which it is not at war and eliminating so-called enemies on the basis of executive memos and conference calls is illegal, out of control, and must end."