After more than a week with no reported drone strikes, there are news reports this morning of strikes in Yemen and Pakistan.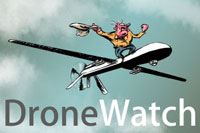 Over the past several days, the Yemeni army has recaptured two towns from Ansar al-Sharia — an offshoot of al-Qaeda in the Arabian Peninsula. Militants have fled and heavy fighting continues. Apparently as part of that offensive, an attack by a US drone killed nine people:
"A US drone struck a house where al-Qaeda militants were meeting, and a car nearby," in the town of Azzan in Shabwa province early in the morning, a tribal source told AFP on condition of anonymity.
In Pakistan, the Associated Press reports:
"Pakistani intelligence officials say a U.S. drone strike has killed four suspected militants after firing two missiles at a vehicle in which they were riding near the Afghan border.

Got something to say about what you're reading? We value your feedback!