After running an editorial, USA Today often follows it with an opposing view on the topic. It's a good feature, giving readers both sides of issues. Today's editorial was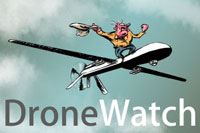 on drones. After considering the major objections to drones, the editorial concludes:
"These are all valid concerns. For the time being, though, the U.S. continues to confront a non-state enemy bent on plotting terror attacks inside America. Unless someone comes up with a better way to protect the nation, the drone strikes should continue, at least until Osama bin Laden's successor, Ayman al-Zawahri, is eliminated and al-Qaeda is out of business."
The opposing view, written by Hina Shamsi, director of the ACLU's National Security Project, argues that:
"White House counterterrorism adviser John Brennan admits that the U.S. targeted killing program sets a precedent. Russia, China or Iran may claim tomorrow, as our government does today, the power to declare individuals enemies of the state and kill them far from any battlefield, based on secret legal criteria, secret evidence and a secret process. That is the world we are unleashing unless the program is stopped."
Got something to say about what you're reading? We value your feedback!