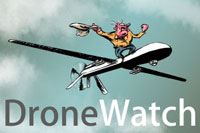 Fifteen dead in Pakistan on Monday:
The third US drone strike in as many days in Pakistan has raised the three-day death toll in the aerial attacks to at least 27, according to Pakistani intelligence officials. Monday's strike in the Hesokhel village of North Waziristan's tribal areas, was said to have targeted a hideout for fighters, officials said. The latest strike, which officials said had killed 15 people, was the seventh in a span of less than two weeks.
At least 10 die in Sunday Pakistan strike:
A US drone strike in Pakistan's frontier tribal areas has killed 10 suspected fighters, according to Pakistani officials. Sunday's strike was the sixth such attack in two weeks, despite ongoing demands by Islamabad for aerial strikes on its territory to stop.
Pakistani intelligence officials said four missiles were fired at the village of Mana Raghzai in South Waziristan near the border with neighbouring Afghanistan. The suspected fighters had gathered to offer condolences to the brother of a commander killed in another drone attack one day earlier.The brother was among those who died in the Sunday morning attack.