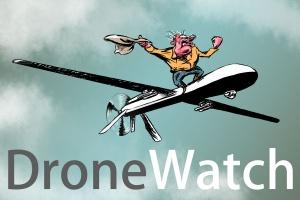 Nearly two weeks ago, Israeli jets shot down a drone that had crossed into its airspace. For several days, there was speculation that it had been launched by Hezbollah, speculation that Prime Minister Netanyahu turned into an accusation.
Last Thursday, Reuters reported a confirmation
"Lebanese Hezbollah leader Sayyed Hassan Nasrallah acknowledged on Thursday sending a drone aircraft that was shot down last weekend after flying some 25 miles into Israel. Nasrallah said in a televised speech that the drone's parts were manufactured in Iran and it was assembled by members of the Shi'ite Muslim militant movement in Lebanon."
Iran then acknowledged that the drone had been manufactured in that country and assembled in Lebanon. The purpose of the flight over Israel was seen as monitoring and gathering intelligence on Israel's nuclear research center. McClatchy News reports
"This was a crude device, but it was a drone with all the capabilities that unmanned aerial crafts offer, and for that reason it is worrying," an Israeli military official told McClatchy under the condition that he not be identified because he was not authorized to discuss sensitive information with a reporter. "We are studying the drone now to learn more about what it accomplished and what Hezbollah intended with it."
Today, Haaretz reports on the continuing situation, now involving the U.N.
"United Nations Secretary General Ban Ki-moon submitted an especially harsh report on the situation in Lebanon, including sharp criticism of Hezbollah, to the 15-member Security Council on Thursday. The report, a copy of which was attained by Haaretz, warned that the Iranian drone launched into Israel by the organization earlier this month was a "reckless provocation" which could lead to a regional conflict."
As the rhetoric rises, the chances of a greater conflict grow.