In what appears to be a step in the right direction, Congress is paying more attention to drone strikes. From the LA Times: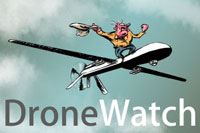 "Once a month, a group of staff members from the House and Senate intelligence committees drives across the Potomac River to CIA headquarters in Virginia, assembles in a secure room and begins the grim task of watching videos of the latest drone strikes in Pakistan and Yemen. …
The regular review of some of the most closely held video in the CIA's possession is part of a marked increase in congressional attention paid to the agency's targeted killing program over the last three years. The oversight, which has not previously been detailed, began largely at the instigation of Sen. Dianne Feinstein (D-Calif.), chairwoman of the Senate Intelligence Committee, ...
In addition to watching video, the legislative aides review intelligence that was used to justify each drone strike. They also sometimes examine telephone intercepts and after-the-fact evidence, such as the CIA's assessment of who was hit."
One of the major criticisms of drone attacks is the lack of transparency and accountability. So, on the one hand, more Congressional oversight is good. On the other hand:
"Members of the oversight committees are limited in their ability to challenge the CIA's conclusions, a senior staff member cautioned. "I can watch video all day long — I'm not an imagery analyst," he said. "I can only look to see if the description reasonably concurs with what my untrained eyes are seeing."
Got something to say about what you're reading? We value your feedback!