In the wake of the death of Al Qaeda's #2 leader Monday, BBC Security Correspondent Frank Gardner wonders if the movement can survive the continued attrition of its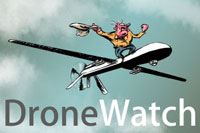 leaders by targeted drone strikes. He concludes that:
"In the long term, perhaps the most serious threat to al-Qaeda lies not so much in the unseen death from the air through drone strikes but in an eventual evaporation of its cause.
Last year's mass democratic movement, dubbed by some the "Arab Spring" or "Arab Awakening", completely bypassed al-Qaeda, which had always insisted that violent jihad was the best and only path to just government.
With the recent departure of Western forces from Iraq and the imminent withdrawal of international combat forces from Afghanistan, the global jihadist movement will be deprived of a significant recruiting tool.
But it would be foolish to believe that the movement is finished."