Several days after urging the U.S. to clarify its policies to ensure that targeted drone killings comply with international law, the U.N. special rapporteur on extrajudicial,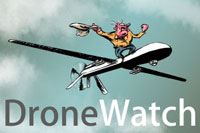 summary or arbitrary executions, went further at a conference in Geneva. Suggesting that some strikes may constitute war crimes:
"[Christof] Heyns, a South African law professor, told the meeting: "Are we to accept major changes to the international legal system which has been in existence since world war two and survived nuclear threats?"
Some states, he added, "find targeted killings immensely attractive. Others may do so in future … Current targeting practices weaken the rule of law. Killings may be lawful in an armed conflict [such as Afghanistan] but many targeted killings take place far from areas where it's recognised as being an armed conflict.
If it is true, he said, that "there have been secondary drone strikes on rescuers who are helping (the injured) after an initial drone attack, those further attacks are a war crime."
Got something to say about what you're reading? We value your feedback!