The Obama administration filed its response to a Freedom of Information lawsuit brought by the ACLU and the New York Times seeking documents on the legal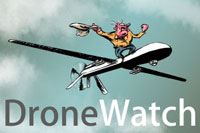 justification for the drone program. To no one's great surprise, the administration refused, claiming a release of the documents would damage national security. In its refusal:
"The administration said the information requested is "highly classified," even though details of such operations have been leaked to the media.
"For example, whether or not the United States government conducted the particular operations that led to the deaths of Anwar al-Awlaki and the other individuals named in the FOIA requests remains classified," the government wrote. The U.S.-born al-Awlaki, an al-Qaida leader, was killed in a U.S. drone strike in Yemen in September.
"Likewise, whether or not the CIA has the authority to be, or is in fact, directly involved in targeted lethal operations remains classified."
President Obama has publicly spoken about the use of drones. Secretary of Defense Panetta has publicly spoken about the use of drones. Counter-terrorism adviser John Brennan delivered an entire speech about the use of drones. But whether or not the CIA is involved in "targeted lethal operations" is a secret? It's not, the only secret is how the administration justifies it.
Got something to say about what you're reading? We value your feedback!