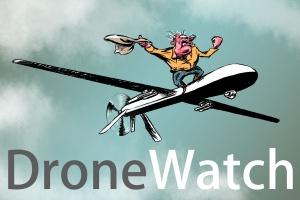 The Association for Unmanned Vehicle Systems International is holding a convention this week in Las Vegas, with an expected 8,000 attendees, 500 exhibitors, and representatives from 40 countries. The Las Vegas Review-Journal columnist John L. Smith writes this morning that on Sunday, Franciscan Father Louis Vitale and CODEPINK co-founder Medea Benjamin were informed their attendance was not desired as they were attempting to secure convention credentials. Smith explains:
"For Vitale, who served in the Air Force before joining the Franciscans, the advanced technology hasn't translated into cleaner combat. The much-touted precision of the drone aircraft has kept American military out of harm's way, but it hasn't eliminated the high price of civilian casualties in the war zones.
To many, this is part of the price paid to defeat a treacherous enemy and maintain our national security. To Vitale, Benjamin and their colleagues, it's too great a price. And then he asks, "What is the impact on the people, what is the impact on our own people?"
The priest believes the incidents of predator operators suffering from post-traumatic stress disorder will be epidemic. His own experiences are anecdotal, he admits, but his conversations with British and U.S. military drone operators have been deeply troubling. Those onboard cameras not only spot suspected enemy targets, he notes, but they also reveal the damage wrought in unprecedented detail."