Former President Jimmy Carter writes in the New York Times this morning of how far the U.S. has gone in abandoning human rights: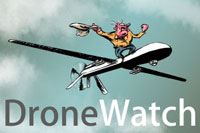 "Despite an arbitrary rule that any man killed by drones is declared an enemy terrorist, the death of nearby innocent women and children is accepted as inevitable. After more than 30 airstrikes on civilian homes this year in Afghanistan, President Hamid Karzai has demanded that such attacks end, but the practice continues in areas of Pakistan, Somalia and Yemen that are not in any war zone. We don't know how many hundreds of innocent civilians have been killed in these attacks, each one approved by the highest authorities in Washington. This would have been unthinkable in previous times."
Got something to say about what you're reading? We value your feedback!