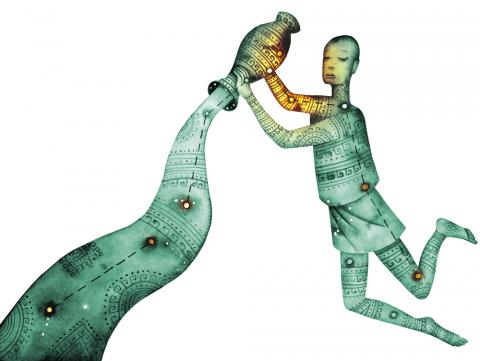 This past spring break, I took my 14-year old daughter to the Illinois Holocaust Museum and Education Center.
My daughter has had a difficult middle school experience, especially these last two years. This last year, we have both, in describing it, used the word "hell."
We have been frequently at odds in these months, my daughter and me. I often feel that I have failed her, that I have failed myself.
One point of connection has been her explorations around World War II and the Holocaust. She has read books about it — novels, mostly. We have watched movies that, in my naiveté, I didn't imagine she would watch for a while. There have been questions, discussions, recollections of stories her grandfather, a WWII vet who is now deceased, once shared with her, with me. There have been nightmares, too, where I wonder if we are, yet again, making the best choices in our twisting, turning journey through this year, this path.
In graduate school and in the years since, I've read enough cultural criticism and listened enough to people I respect to know that to conflate my experience as a white Christian woman with the experience of any Holocaust victim or survivor, or person of African-American heritage, or Native American, or, really, ANYONE else is a slippery slope of logic which ultimately could prove to further exploit those who have already suffered enough.
I found myself reflecting on such issues of identification as my daughter and I walked through the museum last week, past innumerable relics, mementoes, symbols, horrors of that time, past the footage of massacres that younger children should most likely not see, and, perhaps we shouldn't have stood there, silent before it either, but when I asked my daughter, she said, "Yes, I'm all right," and I'm trying so hard to listen, I'm trying so hard to follow her lead, let her grow up, let her grow into herself.
I never said to her: Their experience is not our experience.
I never said to her: This is what real suffering looks like.
Real hell.
I didn't need to.The compassion in my daughter's eyes spoke for itself, as did our shared silence over the course of much of our three-hour visit. We listened so hard together, watching the footage of survivors being interviewed in their homes and apartments, scattered across the world now, sharing their stories.
At the afternoon's end, just before we moved dazedly and swiftly through the gift shop, we passed into a theater space where a documentary about contemporary genocide was being shown. There was information about Rwanda, information about Darfur. I shared what I know about the atrocities there with my daughter. I told her we need to find out more.
And then suddenly her face changed, and she said, "Guatemala."
I looked back at the screen and there was Rigoberta Menchu, Guatemalan activist and Nobel Peace Prize winner, moving through a crowd of people who resemble my daughter, my son.
My daughter swiftly stood and left the theater. I followed her. "What have I done, oh, what have I done?" I thought for the thousandth time this year. "How much can one 14- year-old girl see, how many connections can she hold?"
But outside, my daughter said she was glad we had come. She said she was hungry. We found a fast food place; we ate in the car, driving, always driving toward home.
Image: Eugene Ivanov
Karen Halvorsen Schreck once had lunch with the Queen of Holland. There were many forks. Perhaps this inspired her (failed) attempt at waitressing. She lives outside Chicago with her husband and two children. Karen also is the author of several books, including her brand new (May 1) young-adult novel While He Was Away and visit karenschreck.com to read more of her work.