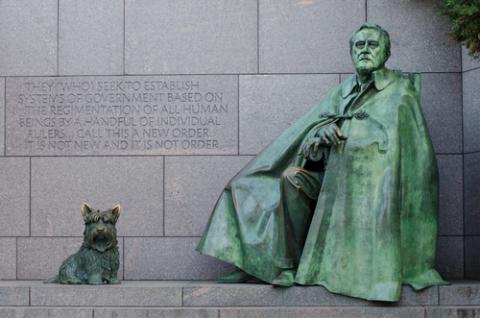 We elect a president every four years, but perhaps we also elect a high priest. Ever since George Washington spontaneously added "so help me God" to his inaugural oath, Americans have expected their presidents to believe in, worship and publicly invoke God....
History suggests, however, that piety and presidential performance don't always match. Some of America's most religious presidents have been its most brutal. And two of its greatest presidents wouldn't even be considered Christians today, scholars say.
Consider Abraham Lincoln, who is widely acknowledged as one of the nation's three greatest presidents, along with Washington and Franklin Delano Roosevelt. But Lincoln, who never joined a church, was not a Christian, says Niels C. Nielsen, author of God in the Obama Era.
"Lincoln believed in an active God, he believed in providence. But if you asked Lincoln if he believed in the deity of Jesus, he would have said no," Nielsen says.
Or look at Roosevelt, who is virtually a national saint. With his perpetual grin and a cigarette holder perched jauntily in his mouth, he guided the nation through the Great Depression and World War II. His legacy is built on his New Deal, an array of programs that protected the poor and elderly from the abuses of unrestrained capitalism.
But Roosevelt was no saint in his personal life. He rarely talked publicly about his Episcopal faith, preferred golf over church (before he was stricken by polio), and likely cheated on his wife, scholars say.
Read Blake's report — which also examines the faith of Lyndon Johnson, Richard Nixon, Andrew Jackson, Thomas Jefferson and Barack Obama — HERE.