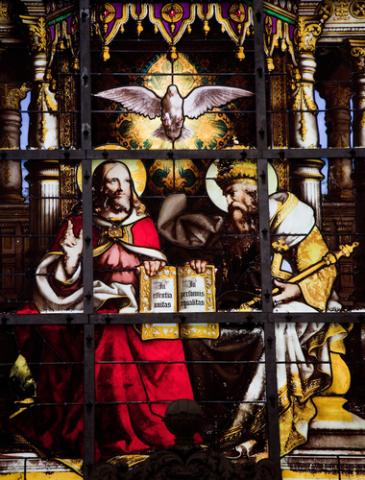 I read a lot of Trinitarian theology last semester at Duke Divinity school, most of it trying to discern how believing in a Triune God might affect the way people of different religious faiths relate to one another. The other great Monotheisms, Islam and Judaism, of course reject the Trinity as they reject Jesus as divine. But what if the Christian belief in the Triune God is the very basis on which Christians can accept Jews as Jews, Muslims as Muslims, and atheists as atheists? Different theologians have explored how the Trinity might be a good place to ground a Christian theory of religious pluralism. S. Mark Heim has gone so far as to say that God's own inner diversity shows God's intention for a diverse humanity, even including religious diversity. In other words: People might believe in a non-Trinitarian God because they were made by a Trinitarian God. Mind-blowing.
I wasn't expecting to find resonance in Charles Darwin, whose name has been used in so much anti-religious fervor. But in his 1857 letter to Asa Gray, Darwin wrote about the "principle of divergence" and how "the same spot will support more life if occupied by very diverse forms." We might not want to make a precise analogy to human society when Darwin concludes that "each new variety or species, when formed will generally take the place of and so exterminate its less well-fitted parent."
That line of thinking could easily lead us to euthanasia. But, taken with his observation that diversity fosters life, we might say that co-existence with others forces a species to adapt, and everyone is better for it. Consider the converse of Darwin's statement: The same spot will support less life if occupied by a unitary form. There is something life-giving – Heim might say "divine" – about difference.
Stanley Hauerwas, ever the contrarian, says he can't construct a theory of religious pluralism because he lacks "the intellectual power for that task." For him, relating to other faiths has everything to do with Jesus' simple teaching and example of turning the other cheek and loving your enemies. Hauerwas follows John Howard Yoder in looking to the biblical story of Babel to show how religious diversity might be a tool God uses to make us better people. But it's interesting how close Hauerwas veers toward both Trinitarian thinkers like Heim and a scientific-modernist like Darwin.
"The first meaning of Babel was the effort of a human community to absolutize itself," Hauerwas writes. In other words, Babel aimed to be a melting pot where differences disappeared.
"Those who built the tower were attempting to resist God's will that there be a diversity of cultures," Hauerwas writes. "Rebellious humanity sought to replace their dependence on God by creating their own heaven."
The Puritan vision of the "City on a Hill," the demand for Hispanic immigrants to assimilate and attempts to export democracy around the world might fall under a similar charge.
"God's scattering of the people from Babel was therefore a benevolent act," Hauerwas writes. "The 'confusion' of Babel is such gracious intervention by God to continue the process of dispersion and diversification through which we are forced to learn to respect the other and learn humility. … For Yoder, the existence of other significant traditions is not a problem for Christians, but rather a gift."
Species don't evolve to become like other species. They evolve into better versions of themselves.
Jesse James DeConto spent 11 years as a newspaper reporter and editor with the Xenia (Ohio) Daily Gazette, the Portsmouth (N.H.) Herald and the News & Observer in Raleigh, N.C. He now works as a contributing editor for Prism magazine and a regular contributor to The Christian Century. He blogs at http://jessejamesdeconto.com.
Photo: Stained glass window depicting the Holy Trinity, jorisvo / Shutterstock.com