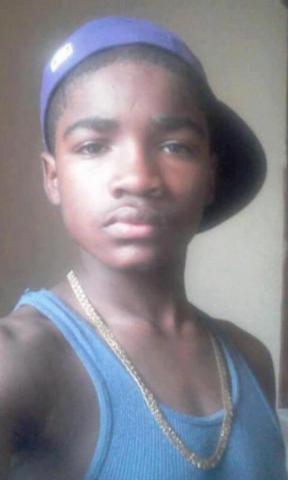 "Very truly, I tell you, unless a grain of wheat falls into the earth and dies, it remains just a single grain; but if it dies, it bears much fruit."
~ John 12:24
MILWAUKEE, Wis. — When tragedies loom so large, it is difficult to keep a perspective on the small things, to view things on a human scale.
We are trained to see the harvest and ignore the seed. We look at end results for the quick post and tweet. The planting, the watering, the tending is too tedious. Show me the aisles of glowing produce under the florescent lights and keep the dirt and the sweat away. Show me the abundance and not the labor.
And yet, every fruit and vegetable and grain begins as a seed. It begins in the smallest of things.
Soon, the story of Darius Simmons will become larger than life. A story that has picked up some media attention will no doubt soar – for a moment – as the Rev. Jesse Jackson and Rainbow PUSH continue to walk with his family and call for justice. This is their work and their calling and I bless them for it. I am thankful for it.
Darius' story is a sensational one – full of racial tension and violence. It is a refrain sung over and over in our nation, the dissonant chorus that reminds us of our nation's original sin.
We sing of Darius.
We sing of Trayvon.
We sing of Troy Davis.
We sing of Henry Louis Gates and Jeremiah Wright.
Again and again we hear how we remain divided, how hatred, racism and prejudice still conduct the choir.
And yet, behind this cacophony there is the small, very real life of Darius, the boy who worshipped at my church. There is the child who knew about seeds and watering and tending as he worked in our community garden. There is a scale to this story that is small and personal.
According to the Milwaukee Journal-Sentinel, on May 31, a day Darius stayed home from from his sixth-grade classes at Gaenslen Elementary School in Milwaukee's Riverwest neighborhood because he wasn't feeling well, he walked outside to retreive a garbage can from the curb. There his next-door-neighbor, 75-year-old John Henry Spooner, confronted him about the burglary of his home a few days earlier. Spooner, who is suffering from lung cancer, accused Darius of stealing a gun from his house. Darius denied having anything to do with the alleged theft.
Darius' mother, Patricia Larry, who also was outside at the time of the confrontation, told Spooner to leave her son alone. Instead, Spooner drew a gun and shot the boy twice. He died a few hours later. He was 13 years old.
Spooner has been charged with first-degree intentional homicide, use of a dangerous weapon. A judge set his bail at $300,000.
Darius lived just a few blocks from All Peoples Church. I would see him as I walked past his house on my way home from work. I would see him on the basketball courts in the neighborhood. I would see him weeding and watering as he learned job training and life skills through our Kids Working To Succeed work-ministry. And I would see him in worship, praying and singing.
Darius acted in small ways. He often was recognized as the "Hardest worker of the day." He recruited more youth to join the church than any other kid. And he was funny.
Darius was a beloved classmate at his school. He is remembered for his generous spirit and his playful nature. He was a remarkable young man.
So, before we lay the cross of our nation's racism upon his shoulders, we should remember just how small they are. Before we look at the abundance of #WeAreDarius and 6 p.m. news sound bites, we should remember that this big story also is playing out on a small scale – among his classmates, among the children of his church, among his family members who knew him before tragedy made him famous.
And there, on the smallest scale, we see the power not of Darius' dying but of his living.
Jesus said unless a grain of wheat falls into the earth and dies, it remains a single grain. Today the nation's most segregated city is reaping a more bountiful harvest.
Sunday morning at All Peoples Church, black and white and Latino worshipers gathered as we do each week to celebrate a God that blesses cross-cultural ministry. Sunday morning, rich and poor shared in a holy meal together. Sunday morning, as the city awakened after burying an innocent child, it says we will be different. Support for the Simmons family has poured in – from suburb and city, from students and elders. And gardeners around the city are claiming Darius as a fellow worker of the earth.
These seeds – seeds of reconciliation and redemption, seeds of youth leadership, seeds of new life – they were all here last week. They were here before Darius' death. They were in his life.
Now we are seeing a harvest. Now we are seeing new seeds being planted — the smallest of things doing the greatest of work.
This is a story Darius knew so well — that grains of wheat are gathered to be transformed into bread. And that bread is broken and blessed. Given and received. Taken and eaten.
This harvest of small things, of little ones, these seeds of hope and fields of change, our neighbors in this city — we are that bread. We all are broken by pain and violence, by hatred and fear, by death and division.
And we are all blessed. Blessed by a harvest. Blessed by dying to the old ways and being born again into a life of peace. Blessed by the life of Darius. A life that bears much fruit.
Steve Jerbi is pastor of All Peoples Church in Milwaukee, Wis. Listen to Steve's eulogy for Darius at his funeral June 9 HERE and a sermon Steve preached just three days after Darius' death HERE.
Photo of John Henry Spooner via the Milwaukee Journal-Sentinel.
Send Us a Note
Got something to say about what you're reading? We value your feedback!