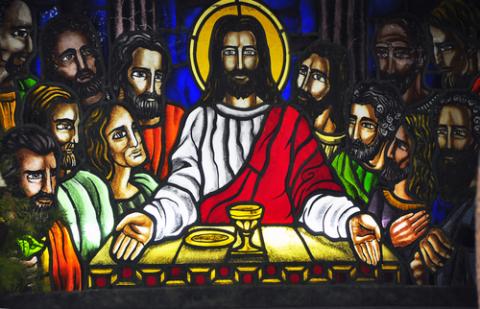 In a column Sunday in the U.K.'s Guardian newspaper, Giles Fraser, the former canon chancellor of St. Paul's Cathedral, set a discussion about the Church of England and its stance toward gay marriage within the context of the Eucharist, saying, "The parish church opens up the jollof rice and communal wafers to all comers, shouldn't we do the same with the marriage feast?"
Fraser continued,
The problem with the CofE on the gay issue is not that it doesn't practise what it preaches but that it doesn't preach what it practises. And orthopraxy (what you do) is more properly basic than orthodoxy (what you think). In practice, the CofE has a reasonably good track record of opening up the jollof rice and the communion wafer to all comers – and certainly better than its official pronouncements would lead onlookers to believe. So why is there such a huge gap between the CofE at parish level and the CofE as expressed by official pronouncements? During General Synod this week, the archbishops came under heavy fire from parish clergy for submitting a shockingly negative response to the government's same-sex marriage proposals in the name of the CofE, as if they constituted the CofE's views. They don't. The parish church is typically a more inclusive place than the church's leadership understand. Here there is neither rich nor poor, black nor white, gay nor straight. The archbishops are out of touch. The parish is the centre of gravity of the church.
Read the column in its entirety HERE.
Image: Stained glass window depicting the Last Supper by Antonio V. Oquias/Shutterstock.