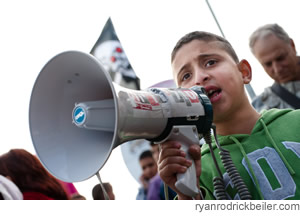 People can take a certain amount of oppression. However, when it gets beyond their ability to tolerate, they rebel. This seems to be the time of rebellion in the Middle East and North Africa. The masses in Egypt and in Tunisia had been ruled by dictators for too long, so the people went to the streets to say, "Enough is enough." We don't know how successful all of these uprisings will be and what kind of governments they may produce. However, we take hope as we consider historical examples such as the masses that revolted in the former Soviet Republics and succeeded in overthrowing their dictators. Or the millions who protested in South Africa and put an end to the apartheid regime. There are many other instances where successful revolts brought down dictators and created new countries with constitutions that serve the people. Yet there are also revolts, such as the Palestinian uprisings and the opposition uprising in Iran, that so far have failed.
The New Testament calls us to rebel. Jesus and his followers were the rebels of their day. The apostle Paul called believers everywhere to rebel. The early church was a rebellious community. But God calls us to a different kind of rebellion -- and perhaps this revolt is more difficult and radical than any other kind.
In Colossians 3: 5-17, we are called to rebel, put to death, kill, and slaughter some dangerous enemies. To avoid miscommunication, let me be clear: These enemies live within us. The apostle is saying that in us, as humans, we may have forces similar to members of a ruling party in a government. If these are oppressing us, we need to overthrow them. And if they do not get out, we must put them to death. Paul is advocating for a revolution -- a rebellion that each of us must wage within himself or herself in order to change our world. In political thinking, people often say, "If only we could get rid of this politician!" or "If only we can get rid of this regime!" or "If only we can get rid of this party! Only then will we have peace." We should not minimize the significance of oppressed people rebelling against ruthless governments. However, each of us must first face the dictators that are within us.
What are these forces within us that we need to overthrow? Firstly, "fornication, impurity, passion, evil desire, and greed (which is idolatry)." These immoral forces are found in politicians in almost every country. However, Paul was not addressing the moral standards of the rulers of his day. He was more interested in the moral standards of the members of the body of Christ. And there is a list of another five immoral forces that the apostle admonishes us to overthrow: "anger, rage, malice, slander, and filthy language." After all, these are the forces that cause people to hate, fight, kill, and insult each other. I have watched many political debates on television in which lawmakers and politicians began cursing and even fighting one another with fists. We look at scenes like these and we shake our heads.
In verses 9 to 10, Paul writes: "Do not lie to each other, since you have taken off your old self with its practices and have put on the new self, which is being renewed in knowledge in the image of its Creator." If WikiLeaks and the Palestine Papers have done anything, they have exposed the lies of many politicians who said one thing behind closed doors and something else in public. Both Hosni Mubarak of Egypt and Zine El Abidine Ben Ali of Tunisia made statements behind closed doors that angered their people. Paul would not be surprised to know that politicians lie, but he was specifically addressing God's people when he said, "Do not lie to each other." Let us overthrow lying. Let us put to death falsehood and insincerity. We have the right to protest when people tell us lies, but we must also fight and kill the lies that we ourselves hide behind.
In a similar manner, Paul calls us to rebel against, overthrow, and kill the immoral force of racial discrimination or prejudice. Many politicians today rise to power because they read their constituents' minds and hearts, and they know that many people in their country hate a certain segment of the society. In turn, they preach a message of racial discrimination and hate in order to get elected. Some of the top politicians in Israel today are in their positions because of their hatred of Arabs and some of the top Palestinian politicians are in theirs because of their hatred of Jews. Hatred based on race or religion is manipulated and used by politicians on all sides of this and other conflicts. In Europe, there is a new wave of discrimination against minorities. The apostle, however, is more concerned about the spiritual condition of the men and women who are members of the body of Christ. He calls them to rebel, overthrow, and kill racial discrimination in their hearts. Notice what Paul writes in verse 11: "Here there is no Gentile or Jew, circumcised or uncircumcised, barbarian, Scythian, slave or free, but Christ is all, and is in all."
"Here" refers to the body of Christ. "Here" we are all equal. "Here" we are all loved the same and given all the privileges through Jesus Christ.
And yet, the church today is controlled by forces and powers that need to go. We need to get rid of the old regimes and replace them with regimes under the control of the Spirit of God. Let each of us start the rebellion -- and let us start it in our own hearts.
Rev. Alex Awad is the director of the Shepherd Society, a local ministry of Bethlehem Bible College, serving marginalized families in the West Bank. He is also the pastor of East Jerusalem Baptist Church, an interdenominational and international congregation which meets in the Wadi Al-Joz neighborhood of East Jerusalem.
Got something to say about what you're reading? We value your feedback!