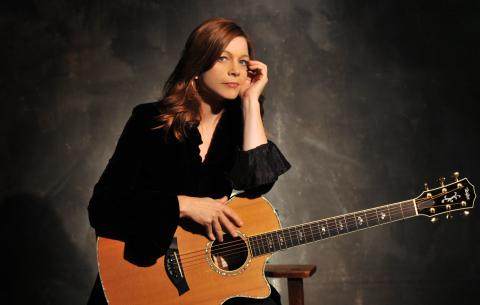 In her inimitably lovely way, Carrie Newcomer, the Quaker singer-songwriter tells the story of June and Cal and their children gathered at their Christmas table to sing carols and celebrate the birth of Jesus Christ in her should-be classic, "Long Christmas Dinner." The unreleased song that is available on Carrie's web site as a "free gift" (read: grace) HERE, is a celebration of simple pleasures and the sacred quotidian blessings of family, hearth and home.
It's a quiet, soul-stirring tune with images so vivid and familiar they stay with me throughout the year. The song's chorus says:
But it feels like it's been one long Christmas diner
One unending prayer one unbroken line
Singing "Be Thou My Vision" by day or by night
All is calm and all is bright.
I asked Carrie, who has just released her 15th studio album, Everything is Everwhere, a benefit album created with the famous Indian family of sarod players — Amjad Ali Khan, Amaan Ali Khan and Ayaan Ali Khan — for the Interfaith Hunger Initiative, what her favorite Christmas song was and this is what she said:

My favorite christmas carol would have to be "In the Bleak Midwinter." Text by Christina Rossetti and music by Gustav Holst.

There is an ache and longing expressed in this carol. It speaks so poetically to the human condition and to the ongoing possibility of incarnation. It is not a song about triumph and divinity, but a song that asks "what shall I give in this world that is so full of wonder and sorrow?
I love that it asks a question rather than gives an answer. "How do I incarnate that ocean of love,so human and so sacred, and expressed in the infinite tenderness of a mother's kiss, in all ways and every season?"
Below, the choir of Kings College, Cambridge performs "In the Bleak Midwinter" followed by the text of the magical carol, written by Rosetti in 1872.
In the Bleak Midwinter
By Christina Rosetti
In the bleak midwinter, frosty wind made moan,
Earth stood hard as iron, water like a stone;
Snow had fallen, snow on snow, snow on snow,
In the bleak midwinter, long ago.
Our God, Heaven cannot hold Him, nor earth sustain;
Heaven and earth shall flee away when He comes to reign.
In the bleak midwinter a stable place sufficed
The Lord God Almighty, Jesus Christ.
Enough for Him, whom cherubim, worship night and day,
Breastful of milk, and a mangerful of hay;
Enough for Him, whom angels fall before,
The ox and ass and camel which adore.
Angels and archangels may have gathered there,
Cherubim and seraphim thronged the air;
But His mother only, in her maiden bliss,
Worshipped the beloved with a kiss.
What can I give Him, poor as I am?
If I were a shepherd, I would bring a lamb;
If I were a Wise Man, I would do my part;
Yet what I can I give Him: give my heart.
Cathleen Falsani is Web Editor and Director of New Media for Sojourners. She is the author of several books, including The Dude Abides: The Gospel According to the Coen Brothers and her new release, BELIEBER!: Fame, Faith and the Heart of Justin Bieber. Follow Cathleen on Twitter @godgrrl.