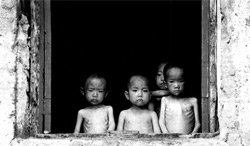 My great-grandfather was one of the first Christians in a village near Pyongyang. God's grace was poured over his entire family, but they experienced intense persecution because of their faith. As a result, he "escaped" one night with his entire family from what is now known as North Korea. My father was 5. Not everyone in his family survived the journey south that one chaotic night.
North Korea, as some may know, is one of the most isolated nations. Subsequently, some of the gravest human rights violations and suffering go unnoticed -- including approximately 200,000 Christians who are in prison labor camps simply because of their faith in Christ. This past weekend, Minhee and I had the privilege of spending some time with friends who left Seattle three years ago to go to Yanbian, China (via Singapore). With their three children, they left the comforts of home, family, and friends to act upon their convictions. The father recently relinquished his well-paying job with full benefits to serve the people of North Korea -- initially at the border of China -- and in a few months, he'll hopefully receive his "resident card," which would allow him to travel to and from North Korea to do community development work. There is no salary to his work as a "tentmaker."
Who in their right mind wants to become a "resident" of North Korea?
It was humbling and inspiring.
When people ask us why we feel so compelled about starting and building the new global poverty organization, it's because of these people and thousands more who are on the ground fighting poverty by serving people, enabling education, building community development projects, digging water wells, distributing medicine, writing letters to governments, giving hope by restoring human dignity -- and so many who do these and so much more -- many who do so in the love of Christ.
Someday, I will return to North Korea.
Someday, I will return to the birthplace of my ancestors, the birthplace of my father and mother. We still have family in North Korea, that is if they are still alive. We do not know. Someday, I will return with my wife and children to not only proclaim and demonstrate the gospel of Jesus Christ but the good news of human dignity that must be afforded to all people because that is the will of God. Thirteen years ago, I climbed Mt. Baekdusan at the border of China and North Korea and prayed for an opportunity someday to return home. I echo that prayer again. Someday, I will return to Korea.
But until then, I hope to be an advocate and activist for many around the world who have no voice. Did you know that about 790 million people in the developing world are still chronically undernourished, almost two-thirds of whom reside in Asia and the Pacific?
Before I submit another entry in the coming days about some of my views about policies with North Korea, I want to draw your attention to an overview of the situation in North Korea via the organization Liberty in North Korea. Would you take three minutes to read this link to hear the story and suffering of my people?

Eugene Cho, a second-generation Korean-American, is the founder and lead pastor of Quest Church in Seattle, and the executive director of Q Cafe, an innovative nonprofit neighborhood café and music venue. He and his wife are also launching a grassroots humanitarian organization to fight global poverty. You can stalk him at his blog eugenecho.wordpress.com.
Got something to say about what you're reading? We value your feedback!