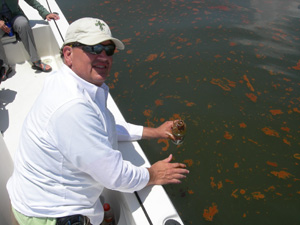 "If we believe in God, then we have hope," said Maurice, a resident of Grand Bayou, Louisiana. Having just traveled 80 miles walking, boating, and especially praying in the Gulf region, I believe Maurice is not alone is his assessment of this nation's worst creation care disaster. From the oyster farmers of Mississippi to the shrimpers of Venice, Louisiana, they understand that hope comes not in the form of BP or fishing boats transformed into oil skimmers but in the One who created all things and for whom all things were created.
We need God in this Gulf mess because it's bad -- no, it's terrible. Visible oil coats marshes for hundreds of miles destroying some of the most diverse natural ecosystems in the world. The home to millions of birds, fish, shrimp, oysters, and thousands of other creatures is, simply put -- shattered. The marshes provide the first defense against hurricanes and other storms that often rage in the Gulf of Mexico. However, the marshes are not just home to animals and microorganisms; the bayou waterways are also home to people. These bayou dwellers have lived sustainably for hundreds of years. They are dependent on the water and the marshes for food and shelter. Most importantly, it is home to a people with a simple way of life that is utterly dependent on God and creation.
Standing on Pass Christian's dock, one oysterman succinctly put: "I'm 59 years old, and my chosen profession is gone." In one sense, he is one of the lucky ones. At least for now, he has a job spotting and cleaning this massive stain on creation. However, there are many not so lucky. Countless others in the Louisiana delta depend on the water for their daily bread. Until the oil spill, seniors, the poor, and other folks have existed by fishing a bucket of shrimp or crabs directly from the water or on the gleanings of their neighbors' daily catch. Now with oil-polluted water, meager income, and no hope for clean-up jobs, they face hunger and endure increased hardships.
As the oil still spews 60,000 barrels per day, faith is the only anchor for many. People have put their trust, hope, and existence in the only person they can: Jesus Christ. From Moss Point, Mississippi to Venice, Louisiana, the common request was, please pray. "We need you to be in prayer with us and for us," they asked.
They truly understand that if God is for us then no one can be against us. That's why my organization, in conjunction with the National Association of Evangelicals, is asking churches in America to set aside a portion of their worship on July 18 to pray for the Gulf region.
Please join us in prayer on July 18, 2010, as we seek God's blessing and transforming power to:
End the oil spewing from below the Gulf's waters.
Provide God's hope and care to the Gulf area residents. (Many are in great despair and some are suicidal.)
Restore the marsh, the water, and all who inhabit them.
Witness our faith that Jesus is Lord of all creation.
So many times we desire to rush to crisis regions as good Samaritans with hammers, shovels, and buckets. However, at this time that is not the need. Prayer is the greatest need, trusting in God as the one who knows best. Maybe the greatest lesson from this tragedy is to trust God for our daily bread -- even our daily energy needs -- and to move toward a life that leads us to new forms of clean energy that doesn't endanger what God has created.
He who rescued us from so deadly a peril will continue to rescue us; on him we have set our hope that he will rescue us again, as you also join in helping us by your prayers, so that many will give thanks on our behalf for the blessing granted to us through the prayers of many.
(2 Corinthians 1:10-11)
Rev. Mitchell C. Hescox is the president and CEO of The Evangelical Environment Network.
+Sign the Pledge to the Next Generation, a promise to care for God's creation for this and future generations.