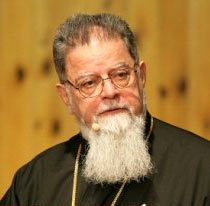 Archbishop Elias Chacour, an Eastern-rite Palestinian Catholic bishop in the region of Galilee, is escorting President Bush on a tour of the Mount of the Beatitudes in Israel on Friday, Jan. 11. This date also marks the sixth year since the arrival of the first prisoners to the U.S. prison camp at Guantánamo Bay.
Chacour, a leader in the Christian peace movement, told Catholic News Service:



The Sermon [on the Mount] was calling for action in a certain direction. This is where Christ was calling on all his followers to get up and do something to get their hands dirty, protect the poor, heal the sick, release the prisoners - including those in Guantanamo Bay, and I will tell [President Bush] that.
Father Chacour, author of Blood Brothers and We Belong to the Land and three-time nominee for the Nobel Peace prize, is president and founder of Mar Elias Educational Institutions in Galilee. The school system serves 3,000 students from the major faith traditions in that area - Muslims, Christians, Druze, and Jews.
Rose Marie Berger, a Sojourners associate editor, is a Catholic peace activist and poet.
Got something to say about what you're reading? We value your feedback!