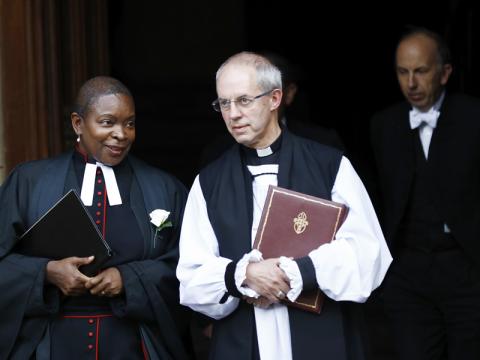 The archbishops of Canterbury and Westminster are among British faith leaders calling on citizens to challenge prejudice, following a sharp rise in xenophobic attacks after the country's referendum to leave the European Union.
Describing the uncertainty and fears that have followed the Brexit vote, religious leaders said people should not become mistrustful of "the other:"
"For all that lies outside of our personal control, every person has the power to conquer their own instinct to apportion blame to others for perceived injustice.
The letter was signed by Ephraim Mirvis, chief rabbi of the United Hebrew Congregations of the Commonwealth; Justin Welby, archbishop of Canterbury; Cardinal Vincent Nichols, archbishop of Westminster; and Maulana Syed Ali Raza Rizvi, president of the Muslim organization Majlis-e-Ulama Shia Europe.
During the week that followed the June 23 vote to leave the European Union, 331 hate crime incidents were reported, compared to 63 in an average week, the National Police Chiefs' Council said on June 30.
Letter in today's @TheTimes signed by me, @ChiefRabbi, @CardinalNichols and @Rizvi114 pic.twitter.com/xPnzP8dNS7

— Justin Welby ن (@JustinWelby) July 1, 2016
Send Us a Note
Got something to say about what you're reading? We value your feedback!