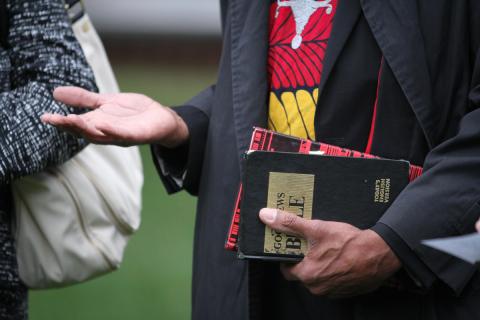 I couldn't believe what I heard. On my television screen a member of Congress quoted the Bible in defense of cutting SNAP benefits. He stated in his testimony, "Scripture says if you don't work you don't eat." The only Scripture that came to my mind as I looked on in sadness was "Jesus wept."
You see, I had just come from the food pantry my church has operated for more than 20 years. With the economic downturn, our pantry volume has steadily increased from 15 to an average of 40-50 families each day we are open. These families are able to shop with us one time in 30 days, and we attempt to provide three meals a day, for three days, for each member of the household. Our clients are beautiful people who are struggling. Each and every day we hear statements such as, "I never thought I would have to come to a food pantry to feed my family," or "We just can't make it to the end of the month." Our clients come from all walks of life and have one thing in common: they're struggling.
So, as I listened to the congressman use Scripture to marginalize the very people I care for every day, I felt I needed to do something. I could no longer be silent as the Bible was being used to hurt vulnerable people. I had to speak, and I remembered the Faithful Filibuster. I sent a tweet to Jim Wallis asking if they needed support or extra voices, and he replied that in fact they did. This was a Friday afternoon at 4 p.m., my daughter and I were on the road from Ohio to Washington, D.C., the next morning at 5:30.
We arrived in D.C. at 1:45 just in time to change and walk to the small pulpit labeled #FaithfulFillibuster for our 2:30 time slot. As I stepped onto the grass and began to read, the long hours of the trip began to fade away as the words of the Gospel began to cross my lips. I remember feeling that I would have driven a thousand miles to be able to proclaim the good news of the message of Christ and to speak the Word out loud in a way that comforted God's people. I would have kept on reading until I couldn't do it anymore, true filibuster style, all the while looking at the Capitol building with all her power. Our Christian story is one of liberation, new life, abundance, and mercy. It is a story that brings good news to the poor, and I will tell it until I no longer have breath.
My daughter read Scripture, another family from our church read, we watched while others stopped to read. Our time in D.C. was less than three hours and we headed home. It was the best three hours I have spent with God in a very long time.
This morning Jim Wallis and other faith leaders took the Faithful Filibuster to the steps of the Capitol building with a sunrise service. They prayed for our nation, her leaders, and for her people. While I could not be there physically, I was certainly there in Spirit and in prayer. As we move through the uncertain times of shutdowns and budgets, disagreements, and discerning, my personal prayer is for compassion and mercy to prevail and may the entirety of this country feel the peace that passes all understanding that only Christ can bring.
Until then, I'll keep feeding people as Jesus asked us to do and keep the car gassed up in case I need to take another road trip for God and God's people.
Rev. Kate Shaner is Minister of Mission at First Community Church in Columbus, Ohio.