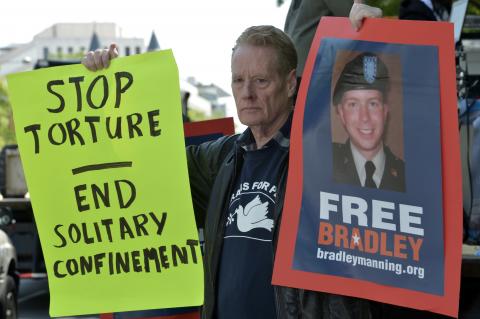 On Saturday, Feb. 23, Bradley Manning marks his 1,000th day in prison without a trial. Manning, the 23 year-old Army intelligence analyst accused of leaking classified documents to WikiLeaks while stationed in Iraq, spent a full 600 days in prison before he even saw a judge, even though military law requires arraignment within 120 days of a person being detained. (Amid the material that Manning released was the now famous video showing two American military helicopters shooting civilians in Baghdad in 2007, killing two Reuters journalists.) During his confinement, Manning has been subjected to abuse and humiliating treatment.
Amnesty International wrote, "We're concerned that the conditions inflicted on Bradley Manning are unnecessarily severe and amount to inhumane treatment by the US authorities. Manning has not been convicted of any offense, but military authorities appear to be using all available means to punish him while in detention. This undermines the United States' commitment to the principle of the presumption of innocence."
U.S. law is based on the presumption that a person is innocent until proven guilty. Our Constitution guarantees all persons in U.S. custody (not just citizens — Cole, D., Enemy Aliens, 2003) the rights to due process of law, humane treatment, and a speedy and public trial. Bradley Manning is only one example of how the U.S. is failing our own constitutional standards.
In 2009 President Barack Obama ordered the Guantanamo detention camp closed within one year. He directed that detainees alleged to have committed crimes be tried in the United States' civilian criminal courts and that all others be released as soon as possible. Obama agreed with human rights lawyers that the military commissions enacted at Guantanamo under President George W. Bush did not meet the justice standards of U.S. civilian courts.
However, when President Obama faced fierce Republican opposition to transferring Guantanamo detainees to the U.S., his administration decided to try detainees on the naval base at Guantanamo using revised military commissions. Those hearings are going on now – and the Office of Military Commissions operates a public viewing simulcast site at the Fort Meade Army base in Maryland, where we attended.
Human rights abuses of the men at Guantanamo have been an outrage since the first were "rendered" to the island in 2002. The special military commissions at Guantanamo limit their rights to be confronted by their accusers and to be allowed to call witnesses of their choice. The U.S. government appears to want to prevent the detainees from exposing evidence of their torture. Obama's refusal to hold the architects and administrators of torture in the previous administration accountable for their crimes will continue to haunt efforts to provide justice at Guantanamo.
Until our government admits the terrible wrongs committed against the men at Guantanamo, prosecutes the perpetrators of torture, and makes reparations to all those abused, it will be impossible to effectively prosecute anyone held at Guantanamo, even those accused of heinous crimes. The obvious and just way forward is to use our civilian justice system to try the men alleged to have committed crimes — and to complete the releases of the 86 who have been approved for release, yet are still indefinitely detained.
Those who believe that all the men in Guantanamo are too dangerous be brought onto U.S. soil should ask themselves: Will we allow fear to rule our country and our lives, betraying our belief in the rule of law? Or will we, as advised in Deuteronomy 31:6, to "Be strong and courageous. Do not fear or be in dread of them, for it is the Lord Your God who goes with you. He will not leave you or forsake you"?
Bob Cooke is a long time Sojourners reader and active in the Catholic peace movement, including Pax Christi. Helen Schietinger, retired nurse living in Washington, DC, is active in Witness Against Torture, a grassroots organization working to close Guantanamo, end torture and indefinite detention, and hold officials accountable for torture of prisoners in U.S. custody.