BP is spewing sludge into the world again, this time via the Internet, not the Gulf. Though BP CEO Tony Hayward has been victim of countless gaffes over the past few months (and will likely have to resign before October), the company's latest bonehead move was revealed yesterday by Americablog.
Americablogger John Aravosis takes a step-by-step look at how BP deliberately altered images from its Houston command station posted on the company's website. See the altered and original images here, and notice the three edited screens on the right side.
Altered: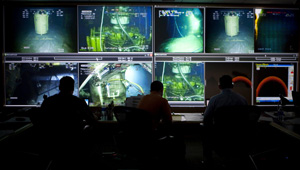 Original:
Since the story broke last night, BP has taken down the photos and offered the "unretouched" original, and Scott Dean, a spokesman for the company, said in a statement: "In this case [our post-production team] copied and pasted three ROV screen images in the original photo over three screens that were not running video feeds at the time."
Aravosis, the blogger, outwitted Dean's bland public relations response, saying, "I guess if you're doing fake crisis response, you might as well fake a photo of the crisis response center."
Though BP admitted the amateur alterations, the company also claims it was a harmless aesthetic decision. I'm not convinced. First of all, the photographic metadata shows the photo was taken in 2001. Is BP altering nine-year-old images? Second, more deeply, I wonder how the photos reveal concrete evidence of the underlying values (or lack thereof) of this corporation.
BP's image is spiraling out of control, and apparently not even its "command center" can keep things under control anymore. Jim Wallis was right when he said that "BP is a lie" and "what it stands for is a lie." Let's hope a new CEO will set them on the road to recovery, in their public relations and their efforts to restore the environment and people of the Gulf.
Sheldon C. Good is the media assistant for Sojourners.
+ Ask Congress for oil spill relief and accountability, and to support a clean energy future.
Got something to say about what you're reading? We value your feedback!