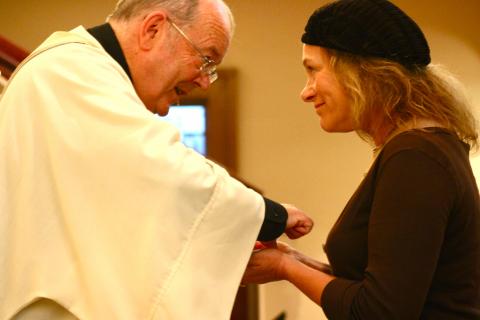 My eyes locked with those of the priest just as his right hand, gripping the aspergillum, went back (in a wind-up that would impress many baseball enthusiasts) and then forward, sending a shower of water across my face and torso.
While I wiped water from the bridge of my nose, we both laughed and I could see the jolly Irish priest's arm go back once again as he prepared to douse the people seated in the pew behind mine.
So began the annual Blessing of the Artists in Laguna Beach, the sleepy seaside village where I live in southern California. Blessing the artists is a community tradition that goes back almost 15 years, begun at the behest of the artists themselves. The ritual is held the first week in June, in advance of the opening of the Sawdust Festival and the Festival of Arts, exhibitions held here each summer and populated largely by artists and artisans from the town itself.
Our community, Laguna Beach, is a true artist's colony, founded as such in the 1920s by a group of plein air landscape painters and fostered over the years by thousands of other creatives.
In the early 1900s, Hildegarde Hawthorne, granddaughter of novelist Nathaniel Hawthorne, described Laguna "as a child of that deathless search, particularly by persons who devote their lives to painting or writing, or for some place where beauty and cheapness and a trifle of remoteness hobnob together in a delightful companionship."
Today, no one would mistake Laguna Beach for being "cheap" in any sense of the word. And yet, even as it has become one of the most affluent communities in the nation, the artists have remained and are a cherished part of the fabric of life in this beautiful, magical place.
Led by the Rev. Eamon O'Gorman, St. Catherine's pastor of more than a decade who hails from Ireland (a town just a stone's throw away from the village where my grandmother spent her childhood in County Cavan, in fact), the service was intimate and animated.
The greatest power of it, though, was the idea that a community of people of different faith traditions and none would collectively and deliberately extend a hand of blessing to the artists in its midst. How unexpected.
In his homily, O'Gorman explained that it is his custom, when he visits classrooms at the parish parochial school, to ask children the same question: What is your gift?
The answers, he said, never fail to delight the child who names and claims her or his gift. It is also O'Gorman's habit not only to ask the child what his or her gift is, but also to turn to the adjacent children and ask them what their classmate's gift is. They always have an answer, he said.
Each of us has a gift, whether it's for visual art or music, architectural design or poetry, plumbing, rearing children or raising chickens.
"No weakness or sin can weaken the gift of God within you," O'Gorman said. "No sin of yours will disconnect the gift God has given you from the person for whom it is received. I'm convinced of that.
"Your frailty can enhance the gift. Isn't that such a better understanding than God bartering with us saying, 'Well if you handled your cards properly it will happen but if you don't I'm not too sure'?" he said.
[Listen to a recording of O'Gorman's homily below.]
[view:Media=block_1]
O'Gorman told a story from a recent visit to one of St. Catherine's kindergarten classrooms. He had been trying to make a hasty retreat for the rectory at the end of a long school week, when he felt a small hand grab his own. It was a kindergarten boy who insisted that the priest join him in his classroom.
Not sure what to expect, O'Gorman relented and squeezed his adult frame into one of those tiny kindergarten chairs. Then the boy pointed to the front of the room where one of his classmates, a five-year-old girl, was leading the pupils in an animated discussion with the help of a computerized "smart board."
That was what the boy so urgently wanted O'Gorman to see.
"This young boy had already discerned her gift, and not only had he already discerned the gift, he wanted others to note it as well," he said.
Rather than be jealous or threatened by the girl's gift, the boy was so taken with it that he felt compelled to share it with others — to celebrate it and lift it up.
"If any community is capable of coalescing around this understanding it is ourselves and I believe that it is," O'Gorman told the crowd of artists and lovers of art. "If a community coalesces around gift, which you have, then what happens? What does our life become in the midst of that?
"Thank you for blessing our lives in so many ways," the priest continued, explaining that, by request, he was about to bless those gathered with incense as well as the water that he'd flung at us at the start of the ritual.
"It's my privilege actually to use the incense for you as a sign of your dignity and to connect the gift that you have from above with heaven, because that's truly where it comes from," he said.
As the service drew to a close, O'Gorman invited anyone who so wished to approach the altar where he would stand with a small gilded vessel containing the chrism oil.
"It would be an honor to bless your hands," he said.
I waited my turn, flanked by a portrait artist on one side and a jewelry maker on the other. My 12-year-old son stood off to the side of the altar, taking pictures with my camera. One of the artists, a renowned photographer, quietly walked over to him, whispered in his ear, and led him to a vantage point closer to the priest, where he could get a better shot.
When I approached the altar, hands upturned in front of my stomach, O'Gorman smiled at me, stuck his thumb in the chrism oil, and made the sign of the cross in both of my palms, asking God to bless the work of my hands.
"God we are truly bearers of the light from above, within and around us," he prayed. "Help us to be bearers of that light to others during this time of the year as we welcome so many people into our midst who are drawn to us because of the beauty of the place.
"We ask that you help us to be witnesses of your love, your kindness, and your care for them."
And all God's people said: AMEN.
Photos in the slideshow below were taken by the author and her son, Vasco Fitzmaurice Possley.
[view:Media=block_2]
Cathleen Falsani is Web Editor and Director of New Media for Sojourners. She is author of four non-fiction books, including her memoir Sin Boldly: A Field Guide for Grace. Follow Cathleen on Twitter @GodGrrl .