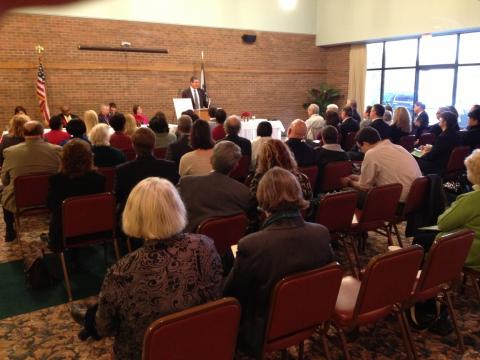 On Monday, three West Virginia bishops joined by families and advocates pressed the state's politicians to protect poor and working families — or, in other words, the "least of these" — during budget battles in Washington.
The budget and tax negotiations are complex and important. They're driven in large part by the expiring Bush tax cuts and steep across-the-board spending cuts set to kick in if Congress does not act.
Congressional Republicans have been demanding deep spending cuts in programs, including Medicaid and Social Security. They've also defended tax cuts for the wealthy. A number of religious figures say those priorities are backwards.
Felicia Thomas, 24, director at Fort Hill Child Development Center, spoke at the meeting. Thomas is a single mother of a five-year-old little girl. Federal programs like Earned Income Tax Credit and child care subsidies have allowed Thomas not only to pursue her dreams of a better future, but also to keep the lights on and the fridge stocked.
"It was because of these programs that my daughter has never come home to a house with no food or electricity," Thomas said. "These programs are not handouts. They are the opposite of handouts. They are what give mothers the opportunity to work. Everyone needs a little help every now and then and these programs are what allow mothers like myself to climb out of a horrible pit of guilt, shame, and depression."
Diane Kimble, a local retired teacher who lost her dad at a young age and consequently who grew up in a low-income family, also spoke at the event. Kimble reiterated that vulnerable families and citizens should not be neglected in budget talks.
"Looking at the fiscal cliff deliberations is one scary thing because we have to protect the youngest and the oldest as we balance the budget," Kimble said. "Americans like me don't want handouts, we want fairplay for the vulnerable youngest and oldest as well as our poorest populations. The Congress cannot balance the budget on the backs of poor children and the elderly who have worked their entire lives. Our economy cannot thrive unless see through the politics to the real people behind the numbers."
Brandon Hook is the Online Assistant at Sojourners.
Photo: People before Politics, Stephen Smith