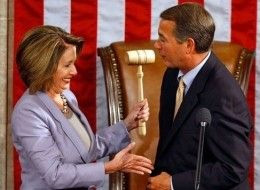 Leaders of both parties in the House of Representatives hailed the passage of landmark legislation on Tuesday that rejects bipartisanship once and for all.
The bill, which passed on Wednesday by a vote of 431-1, would codify the often ugly partisan divide that has halted Washington to a near standstill in recent months. Section 5 (a) (iii) of the bill instructs members of Congress to "stop kidding themselves and just vote with your caucus already. Gosh!"
House Minority Whip Eric Cantor (R-OH) declared this a victory for the American people. "This is a historic day in which I stand proudly with the freedom-hating Democrat party to denounce the possibility of working together. I mean, c'mon, I can't stand those guys."
The lone voice of dissent came from self-proclaimed libertarian Ron Paul (R-TX), who saw this as an intrusion into the lives of ordinary members of Congress. "I will decide for myself to reject bipartisanship. Big government can't tell me that I can't be bipartisan. It's in the Constitution. You can look it up."