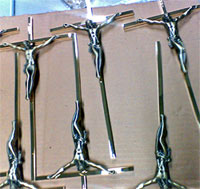 In college, I took a cultural exchange trip (read: vacation) to Rome over spring break. Just around the corner from St. Peter's Square, I bought my father, a minister, a crucifix for his office.
Earlier this week, I saw that same souvenir in a report from The National Labor Committee on crucifixes made in Chinese sweatshops.
The report, titled "Today Workers Bear the Cross", documents the oppressive treatment of the workers in the Junxingye factory in Dongguan, China, who make crucifixes and other religious items to be sold to the faithful in the West.



[The] mostly young women-several just 15 and 16 years old-[are] forced to work routine 14 to 15 ½-hour shifts, from 8:00 a.m. to 10:00 or 11:30 p.m., seven days a week
Got something to say about what you're reading? We value your feedback!