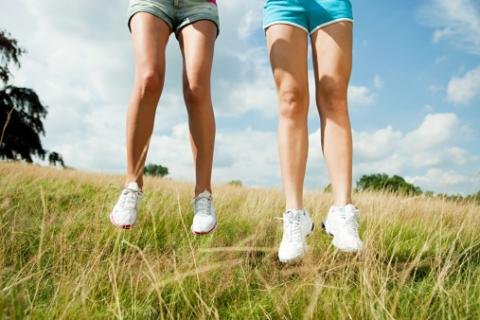 I was intrigued by a recent comment from a major political contributor when he suggested using Bayer aspirin was a viable birth control method for women. Mega-contributor Foster Friess was being interviewed by MSNBC's Andrea Mitchell when he referred to bygone days when "the gals put it between their knees, and it wasn't that costly."

He later claimed the remark was just a joke, but not before I'd spent a half hour trying it out. I wouldn't have wasted my time seeing if it was possible which, according to my unscientific test, it's not. Of course, it could have been the slacks I was wearing, which sometimes gather at the knees, or the angle in which I was sitting. But the darn thing just kept falling out.

I briefly wondered if Mr. Friess got the product wrong, so I also tried an ibuprofen, an Excedrin Extra Strength, a Tylenol caplet and, just for the heck of it, a piece of Trident gum, with extra whitening. The result was always the same: It would stay between my knees for a couple minutes but then I'd answer the phone or reach for the Bible to look for Old Testament clarity on the appropriate role of women and it would drop to the floor again.

I wondered if recommended dosage might be a problem, so I tried two ibuprofens, but that just made it worse. I tried two Tylenol as well, but the label warns against using the product more than four times a day, and at the rate that these things were dropping to the floor, I'd probably done twice that already, so I stopped. I also planned to have an alcoholic beverage at a reception later in the evening, possibly holding it between my knees while reaching for another of those delicious grilled chickens on a stick, and that's something else that, by implication, the label warned against. (And speaking of dosage, Trident is to be commended for providing maximum brightening and fresh breath with only a single Trident. Although, if it's prom night, you should take two anyway, just to be safe.)

The bottom line is that if a guy like me has trouble keeping an aspirin between my knees, imagine the difficulty of a woman busy with household chores, raising children, and generally making herself pretty for when hubby comes home. There are other types of women in the world, of course, but I get the impression Mr. Friess wasn't referring to them.

His comments come at a time when contraception in particular — and women's health protections in general — have come under renewed attack from politicians, religious leaders, and assorted moralists suffering from a latent medical condition known as "Forgetting That Half Of American Voters Are Women." Now, as a man, I'm assuming most women would welcome heartfelt advice from my gender about all manner of health issues. (And while I would never suggest how a woman would use a Bayer aspirin, she can be certain that the religious institution we work for will carefully weigh all the moral implications on her behalf before refusing to pay for it.)

But in the unlikely event that such heartfelt advice is less than warmly received, I would remind my brethren in the political arena that this November women might not show up to the polls "barefoot and pregnant," as Foster Friess might tactfully put it, but they will definitely have something stuck in their craw, and could vote accordingly.

Ed Spivey Jr. is art director for Sojourners Magazine.