The shooting of two Indian men in Kansas is one of the most recent examples of an increase in racially motivated violence in the U.S., and the Trump administration must rigorously investigate and prosecute the perpetrators, a group of Democratic members of Congress and South Asian-American advocates said Friday at a rally outside the Capitol.
"We are seeing an uptick of hate violence that we haven't seen since immediately after the 911," said Suman Raghunathan, the executive director of South Asian Americans Leading Together.
Citing a recent SAALT report, Raghunathan said the hate crimes against the South Asian, Muslim, Sikh, Hindu, Middle Eastern, and Arab communities since the start of the presidential campaign "are reaching troubling levels." And they don't appear to be going down."
Over the course of last year up to a week after the election, 207 incidents of hate violence and xenophobic political rhetoric were aimed at Muslim community. Among them, one in five instances of xenophobic political rhetoric documented came from then-presidential nominee Donald Trump, the report said.
Reps. Pramila Jayapal (D-Wash.) Joe Crowley (D-N.Y.), and Ami Bera (D-Calif.) said President Donald Trump's condemnation of hate crimes in his recent address to Congress was just word when action is needed.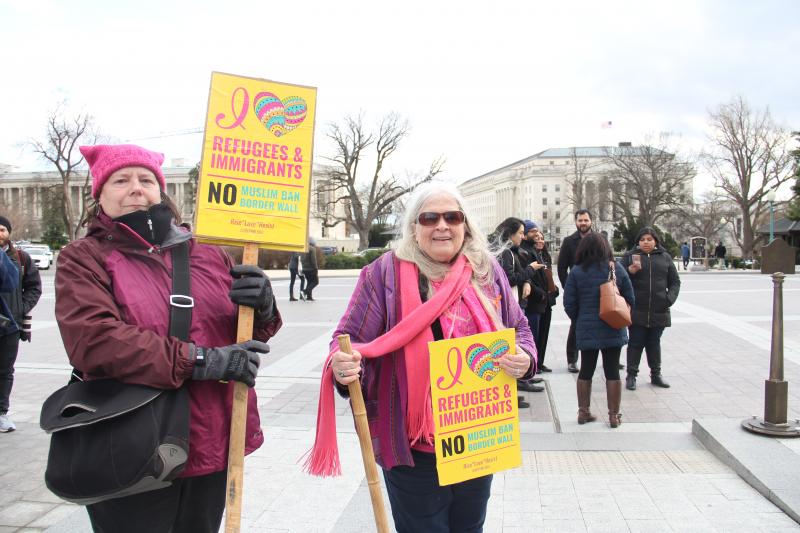 Trump unfolded his speech by acknowledging the nation's work toward civil rights is unfinished. "Recent threats targeting Jewish Community Centers and vandalism of Jewish cemeteries, as well as last week's shooting in Kansas City, remind us that while we may be a nation divided on policies, we are a country that stands united in condemning hate and evil in all its forms," he said.
Those comments came far too late for some, after multiple waves of JCC bomb threats and news of rising hate crimes.
"My daughter-in-law is a South Asian. My grandson is a brown baby," said protester Ellen Taylor from Washington. "I'm horrified that he is facing discrimination and actually is at risk because of what he looks like."
"I blame Donald Trump for this ... for the growing hate that's tearing our country apart," she added.
A February survey by the Public Religion Research Institute showed that 64 percent of Americans agree that immigrants "face a lot of discrimination today," and 66 percent say the same of Muslims. The only group of Americans who believe Christians face more discrimination than Muslims: white evangelicals.
Got something to say about what you're reading? We value your feedback!