All of my favorite theologians are dying. David Bowie. Alan Rickman. A couple of years ago it was Pete Seeger. It is as if all my favorite theologians are moving on.
Please take me seriously as I say this. It has been a grief-striking week. Just like when Robin Williams passed, there is this void in my life, in my way of knowing God.
There are other theologians of course. Brueggeman. King. Heyward. Berger. But each in their own way remind me to look to our artists and musicians for embodied theology. I listen for theology on the radio. I watch for it on television and the movie screen.
It doesn't matter what Brian McLaren writes in his books if no one is actually doing it someplace else. Diana Butler Bass is a genius, but I need Bobby McFerrin, Yara Allen, or all of the Punch Brothers with Aiofe O'Donovan for it to get real for me.
This is not to pit one kind of theology over another, but just to highlight that what we're losing are not just popular icons but theologians.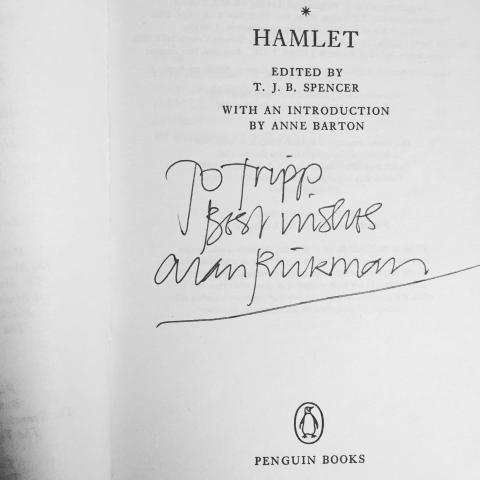 These people are not saints. Their lives are not perfect. Good grief, David Bowie leaves a moral legacy that is as terrifying as it is glorious. But Moses was a murderer, as was Paul. Augustine was a philandering jerk. John Calvin had someone burned at the stake. Bonhoffer was involved in a plot to commit high treason and wrote long sentences about how complicated doing good or being good actually is. American Christianity still struggles with its own racism. None of us is clean.
Sometimes the most beautiful theology is written by people who have stood in the darkness and done evil things.
This does not excuse the action. But it does remind us that Christianity is not a purity cult. It is an impurity cult.
Sometimes theologians sing songs about the ambiguity of ethics in our life together. They portray villains on stage or on the screen because the villainous is real. And sometimes the person you think is your arch-nemesis is the very person who has already laid down everything on your behalf.
I'm not interested in a clean and tidy theology. Save your systematics for someone else. They have their value, but not for me right now. Give me your Jean Genie. Give me your Snape. Give me a banjo-wielding communist. I want real theology about a real God.
All my favorite theologians are dying.
Got something to say about what you're reading? We value your feedback!