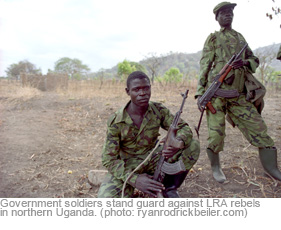 The murderous regime in Khartoum is showing its true colors again. While they parade and pretend to be preparing for fair elections next week, they are simultaneously giving the Lord's Resistance Army (LRA) safe haven in Darfur. According to one article, Ugandan President Yoweri Museveni believes that LRA leader Joseph Kony could even be taking refuge in south Darfur, plotting to disrupt the upcoming Sudanese elections through violence. Sensing imminent danger, the army of southern Sudan is actively preparing for attacks.
The LRA is infamous for committing atrocities against civilians and for kidnapping children to force them to become soldiers or sex slaves; originating in northern Uganda, the militia now terrorizes other regions as well, including areas in the Democratic Republic of Congo and southern Sudan. Sudan's President Omar al-Bashir has collaborated with the LRA's brutal Joseph Kony before, allowing Kony's vicious soldiers to terrorize southern Sudan in 2005. News of the LRA's presence in Darfur is incredibly disturbing, yet it is not at all surprising.
How can we expect democracy to prevail, and for the voice of the Sudanese people to be heard, if Khartoum is actively trying to thwart any democratic efforts through violence and division? Enough Project co-founder John Prendergast warns that unless preventive action is taken, "we will likely see the LRA unleashed again later this year to destabilize the referendum in southern Sudan." People of faith must demand that our government leaders work with the international community to ensure legitimate leadership in Sudan. Click here to order postcards that you can send to the Obama administration urging that Sudan host an election that its people deserve.
Melanie Weldon-Soiset is a Policy and Organizing Associate at Sojourners and a third year Master of Divinity student at Wesley Theological Seminary.
Got something to say about what you're reading? We value your feedback!