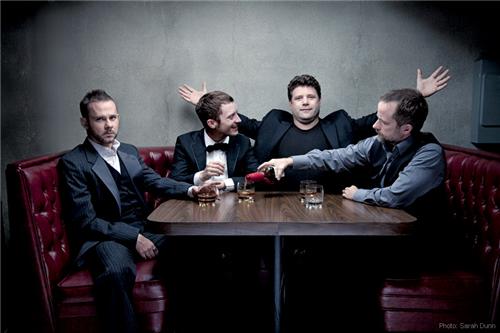 Return of the Hobbits
Ten years ago, The Fellowship of the Ring began the silver-screen adaptations of Tolkien's widely loved Lord of the Rings trilogy. To celebrate the special anniversary, Empire Magazine has reunited the cast, well, at least the hobbits -- Frodo, Sam, Merry, and Pippin -- for a post-journey recap.
Alec Baldwin's Radio Show
Earlier this week, actor, uncertain political candidate, and now radio host, Alec Baldwin debuted his new podcast on New York Public Radio's WNYC. The show titled Here's the Thing, features Baldwin "following great conversations to unexpected places." The first episode features director/producer Michael Douglas, and is available for streaming here.
Megachurch Mega-graph
Good Magazine's latest info-graph features the logistics of megachurches. Using their unique graphic appeal, the map answers the question "What does the average U.S. megachurch looks like?" through illustrations on budgets, membership, and more.
Women, Families, and Climate Change
"Weather Change" is a short documentary that brings together illuminating stories of women, family, and climate change. Told from the voices of three women around the globe, this short, presented by Population Action International, shows how birth control and family planning is helping families in areas where environmental concerns and scarce health care abound.
Occupy Wall Street's Library
Over 3,000 titles can be found at New York City's newest library at Zucotti Park. Comprised entirely of donations from citizens, book stores, and publishers, several volunteers manage The People's Library, an occupy hot spot that now includes free wifi.
Ira Glass, and Others in Promo Video
In Shalom Auslander's forthcoming debut novel Hope: A Tragedy, his publisher allowed him to record a few promotional teasers on what New York Magazine calls the "lighter side of collective Holocaust guilt." In anticipation of this work, watch the clips of Auslander posing interesting questions to Ira Glass, Sarah Vowell, and John Hodgman.
Dr. Suess' The Lorax
The Lorax is the latest Dr. Suess book to receive a film adaptation. The movie will hit theaters in March and will feature Danny DeVito, Betty White, Ed Helms, and many others. The trailer was released today.
A Moment in McRib History
With the resurgence of McDonald's McRib sandwich, The Huffington Post is compiling pictures of the McRib throughout history. Whether it's raising the flag at Iwo Jima or stopping tanks in Tiananmen Square, this sandwich is truly a famous snack.
Will Ferrell Wins Mark Twain
Last weekend, Will Ferrell was awarded the nation's top comedy prize, the Mark Twain Prize for American Humor. Despite accidentally dropping (and breaking) the bust of Mark Twain on stage, Ferrell was recognized for his portrayal of Ron Burgundy in Anchorman and George W. Bush on Saturday Night Live. Ferrell joins the ranks of fellow recipients Bill Cosby, Steve Martin, and 11 others.
Watch this video of congratulation released today from Funny or Die, a site comedy Ferrell co-founded.
+ Warning may contain coarse language +