Rejected Ben & Jerry's Flavors
The taste creators over at Ben & Jerry's have released some pretty creative flavors over the years. Here's a few flavors that they didn't use (some for obvious reasons).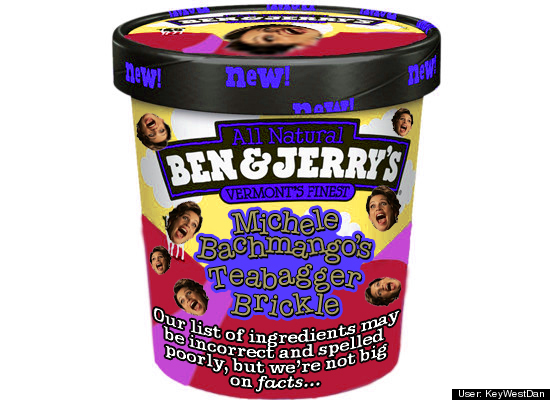 The Catechism Cataclysm
"No sex, no drugs, but plenty of rock and roll," says Steve Little in the new IFC film, "The Catechism Cataclysm." This story, starring Little and Robert Longstreet, is of a pastor who is forced to take a sabbatical after telling inappropriate parables to his congregation. After connecting with his high-school friend (Longstreet), the two embark on an outdoor adventure and muse on their old days playing in a rock band.
Freedom in Prison
The One Dress Protest was initiated by a woman calling attention to the motivations and reasons behind purchasing and wearing clothing. A month ago she was arrested, along with many others, for participating in an act of civil disobedience against the TarSans pipeline. Read her recent reflections and how they relate to her campaign to wear one dress for one year HERE.
The One Percent in NYC
With the mass gatherings on Wall Street, some protesters are likely disappointed that many of the billionaires they're protesting against don't actually live in lower Manhattan. Therefore, a "millionaire march" took place on Tuesday, taking protesters out of Zuccotti Park and uptown, into the home territory of cash machines like Rupert Murdoch, David Koch, and Jamie Dimon. Read more HERE.
Gasoline for Charity
Citgo is "giving thousands of gallons of gas to charitable organizations in [its] 27-state area." Vote for your favorite charity and see the rewards that they have already given HERE.
Mormon Politics
A Southern Baptist minister talks with Chris Matthews on his concerns with a Mormon in the White House. Pastor Robert Jeffress believes Mormonism is a theological cult and that Mormons (or even some Baptists) are not Christians. See clip below:
Visit msnbc.com for breaking news, world news, and news about the economy
Bjork App Complete
Icelandic musician Bjork took the music industry a creative step forward when she decided to release her new album Biophilia as an app, before releasing it digitally and physically. Beginning over the summer, users could download the app and then pay to access songs as they became available. But it was no ordinary purchase; each track came with an interactive game, a visual accompaniment to the music, full lyrics and credits, and each was designed by a different artist. As of today, every track is available in the cosmic sphere of this unique app, a few weeks before it releases on October. See app for "Virus" below: