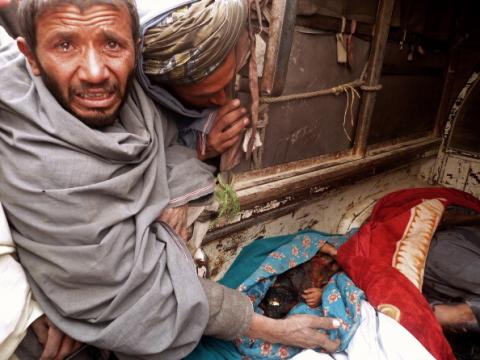 Another 16 lives were added to the body count of the war in Afghanistan over the weekend.
All of them civilians, nine were children, including one three year old girl.
The alleged perpetrator, a U.S. Sergeant, killed many of the victims with a single shot to the head before he piled together eleven of the bodies and set them on fire.
There is no way to measure the loss for the families of the victims, no way to understand the harm done to peace process in the country and no way to calculate the additional deaths of Americans, Afghans and others from across the world this will likely cause.
There is no way to know the full cost of war.
We know our country has spent about $509.4 billion on the war in Afghanistan. Nearly 2,000 U.S. troops have died and total deaths from all coalition forces come closer to 3,000. Afghani civilian casualties, the majority from the Taliban and other anti-government forces, have continued to rise over the past 6 years with a total of 12,793 documented deaths.
These are numbers we have but they fail to tell the story of the loss family, friends and communities have suffered.
Suicide, homelessness, joblessness and mental illness are all too common among returning troops. Scars, both seen and unseen, will stay with those who fought and served for the rest of their lives. Husbands, wives, mothers, fathers, sisters and brothers lost and never to be replaced.
Some of these costs can be added up and displayed on a graph and others we will never know. Still, all these costs must and will be paid.
On the 10th anniversary of the start of the war in Afghanistan, Sojourners created the video below.
Join me in making it your prayer today.


Tim King is Communications Director for Sojourners. Follow Tim on Twitter @TMKing.