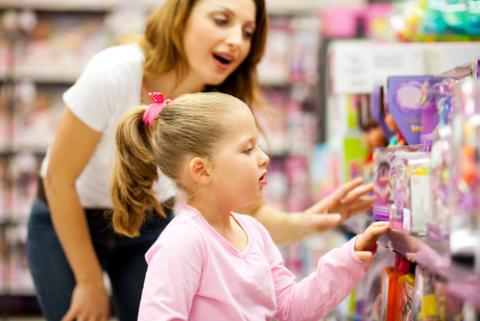 The first part of 2012 was rough for the ladies. Exhibit A. Exhibit B. Exhibit C.
Any response? Any backlash? Oh right, the election. In the 113th Congress, there will be 20 women in the Senate. When I was a teenager, I read Nine and Counting: The Women of the Senate. That book is obsolete, and it makes me so happy. Though, I hate that we have to count how many women are in leadership (go to 2:35), we are making strides. It should just be so ingrained in our minds that we shouldn't have to describe them as "the third woman CEO," but just "CEO."
In 2013, the entire congressional delegation from New Hampshire will be women. Their governor will be a woman. It's awesome. So maybe the last quarter of 2012 (and beyond) will be a glorious time to be a woman. But what does the last quarter of the year really mean? CHRISTMAS!!
Last year, I wrote a blog post called, "The Top 10 Worst Toys to Give Your Daughter This Christmas." Not to brag or anything, but it was pretty awesome (in the worst way possible). But you know what? It's time to give a shout out to the toys that are positive for girls. Let's lift up some good examples. Let's never be surprised that a girl says "I want to be an astronaut" or "I want to be president." And that dream can start with a toy. But let's face it, it's hard to find toys that are geared towards girls without stereotyping, or just a boy's toy that's painted pink.
So, here it is — the Top 10 Gifts You Should Get Your Daughter This Christmas.
10. Perfumery Science Kit. Get your daughter ready to tackle the science of smell. With this kit, you can extract fragrances from plants, design your own fragrances, and explore the physiology of smell. Early exposure to chemistry (even at this basic level) will make it easier when they meet it in school. And maybe you'll get a special Mom Musk made just for you!
9. Visible Woman Kit. This is maybe for girls who are a little bit older, cause it looks kinda weird, but a great part about being a woman is our bodies. It can either be a frustrating or awe-inspiring, and getting girls used to what their insides look like can go a loooong way.
8. Fairy Triad Dome Terrarium. Have a girl who loves to be outside? Nurture her love of nature with a bedside terrarium. They'll learn the life cycle, and apparently, with this one, find a fairy or two.
7. See Jane Win. Yes, I'm adding in a few books. This is for your older daughters, maybe 9-13, who need inspiring words from real women—teachers, attorneys, astronauts, congresswomen, and homemakers. This book is the result of a survey of over 1,000 successful women, and I'm sure it's not just good for the daughters, but for parents, too.
6. Spa Science Kit. I'm not against girlie pampering. I love it. This one has a similar idea behind the chemistry perfume set, but it's for facemasks, shampoos, and bath gels, so is a little more diverse, and probably for a different age set. Get your daughter ready to tackle the science fair with this one.
5. Rainbow in My Room. I'm not even really sure what this is, but refraction is totally cool, and rainbows are pretty. Physics is everywhere!
4. Little MissMatched's The Writer in Me! This series of "creativity kits" motivates girls to observe the world around them and discover all different types of writing. It covers poetry, has a rhyming dictionary, and has a deck of word cards (but doesn't cover Top 10 lists…).
3. President Barbie. You didn't think Barbie would be on this list, did you?! Yes, Barbie has been at the center of body image debates for years, and her proportions still make it impossible for her to stand up if she were real, but Barbie decided to run for president this year, and that's a big deal! No longer is she just a Princess Pop Star, a mermaid, or a fashionista, she's running for president. She's also the first Barbie in history that can stand on her own (pun intended, with the help of weighted pink pumps).Toys reflect the world we want our children to live in, and if a fashionista is all you see, a fashionista is maybe all you'll be.
2. Grace for President. This is one of my favorite children's books of all time. Not only is it beautifully illustrated, it teaches the American electoral process to kids. It features a little African American girl, spunky, self-aware Grace, who is running for class president. Her opponent is a well-liked, well-funded science fair champion. I love it. There are not a lot of books that teach kids about government, let alone feature girls as presidents. Let me tell you. I have the collection. Most of them have a girl, or feature a girl daydreaming about being president. This one takes the cake. I've bought three copies.
1. GoldieBlox. This is what I'm getting my little cousins for Christmas this year, and the toy that kicked off this blog post. The whole thing is incredible. First, it was crowd-funded by Kickstarter, so that's great. Second, the toy is aimed at getting girls to engage their spatial reasoning skills and to inspire more gals to jump into engineering. This isn't just a set of pink blocks, though. Lots of psychologists will tell you that boys like to build and girls like to read. Well, engineer Debbie Sterling fused those together and came up with an awesome toy that caters to girls' strengths and encourages growth in the "boys only" world of engineering. Way to go, Debbie!
So that's it. Maybe one of these will go to your niece. Maybe one will go to your daughter. Either way, this Christmas, encourage a girl to think outside the (toy) box.
Photo: Mother and daughter shopping, © michaeljung | View Portfolio / Shutterstock.com