Photos from an Attempted Coup
Trump incites his followers to violence.
Despite advanced warnings of far-right demonstrations intent on wreaking havoc in Washington, D.C., Wednesday began as many pro-Donald Trump rallies have in weeks since the election: Spirited attendees in American flag apparel, some bearing the insignias of right-wing organizations like the Three Percenters, took pictures, mingled, and professed their ardent support of Trump – some going so far as to conflate the president with Jesus Christ.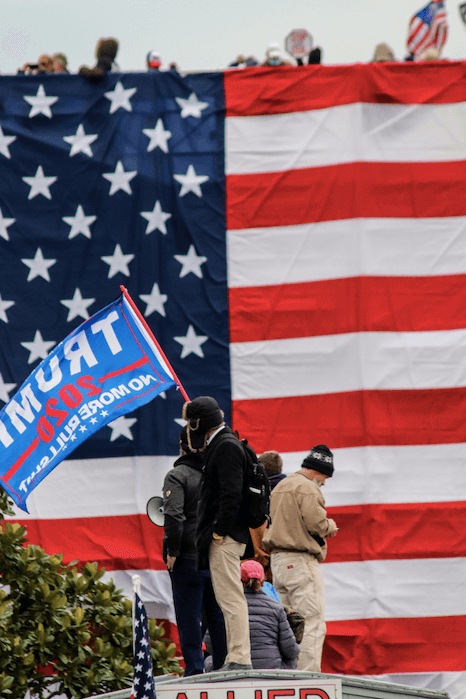 Around noon, attendees gathered at the Ellipse, a park just south of the White House, eager to hear Trump speak after he called for supporters to attend the Jan. 6 rallies on Twitter, promising a big turnout. Trump's social media accounts would later be suspended on both Twitter and Facebook.

Others walked around the city listening to the speech on cell phones with a sense of pride in heeding their president's call to action. One far-right group, the America First Coalition, who support an anti-immigration agenda and are tied to far-right, anti-Semitic political commentator Nick Fuentes, huddled together to listen to Trump's remarks over a megaphone in Freedom Plaza.
When Trump made false remarks about his distrust of the media and its complicity in election fraud, the group became hostile toward the press in the area.
Adding to his disproven claims of voter fraud, Trump made further unfounded statements such as, "one of the top constitutional lawyers in our country" informed him that Vice President Mike Pence has "the absolute right to" throw out the election results – which Pence later rejected in a letter to lawmakers.
Trump promised to "never concede," encouraging his supporters to walk to the Capitol, saying that he would meet them there.
"You'll never take back our country with weakness," he said. "You have to show strength and you have to be strong."
Fiercely loyal to the president, attendees marched along Pennsylvania Avenue to the Capitol. They were joined by far-right conspiracy theorist and founder of InfoWars, Alex Jones, who periodically yelled, "That's him, that's Trump!" to a chorus of cheers and hopes for a glimpse of the president. But the group's arrival at the Capitol brought only chaos and violence as the insurrectionists breached the U.S. Capitol building. Four people died as a result of the attacks, members of Congress were rushed to safety, and the Electoral College certification was paused.
And to many, the mayhem brought with it the stark realization that this destruction was the logical conclusion of a presidency committed to undermining and delegitimizing the foundations of American democracy.
Republican leaders across the board have condemned Trump's actions, urging him to end the violence. Sen. Lindsey Graham (R-S.C.) said, "I could not agree more with president-elect Biden's statement to the nation. Time to retake the Capitol, end the violence, & stop the madness. Time to move forward in governing our nation."
Congress later reconvened, announcing early Thursday morning that Joe Biden will officially be the next president of the United States.
Got something to say about what you're reading? We value your feedback!