Nearly 150 Climate Activists Arrested in Mass Demonstration for Green New Deal
By Christina Colón, Kayla Lattimore 12-10-2018.
More than 1,000 young adults risked arrest Monday in Washington, D.C., by flooding the offices of Minority Leader Nancy Pelosi (D-Calif.), Rep. Steny Hoyer (D-Md.), and Rep. Jim McGovern (D-Mass.).

It's the second time this winter that the Sunrise Movement has taken to the Capitol in what Sunrise Movement co-founder Varshini Prakash referred to as part of a concentrated effort to, "build policy support and people power" around a Green New Deal.

Holding signs that read, "BACK THE DEAL," and "DO YOUR JOB," many of the activists had traveled hours by bus to be part of the Sunrise Movement's latest sit-in.
"I want justice for all kids, but the kids who need it the most are the kids who live in frontline communities, Indigenous kids, and kids of color. They have important stories to tell. Listen ... I pray that our words will unmask many lies."
Rev. Lennox Yearwood, president of the Hip Hop Caucus, joined those standing in the halls, offering his encouragement to those going into hour four of their action.
"I want to thank the power of young people, the power of women, the power of queer people, the power of people," Yearwood said "I want to thank you, because 100 years from now, more than likely, none of us will be here. But what will be here, will be the spirit of us fighting. Climate change is a civil rights issue. You have a right to clean air, you have a right to clean water, and we will fight not just for ourselves, but for the next generation. Do not get tired. Do not get frustrated. Do not get weary. Keep on fighting."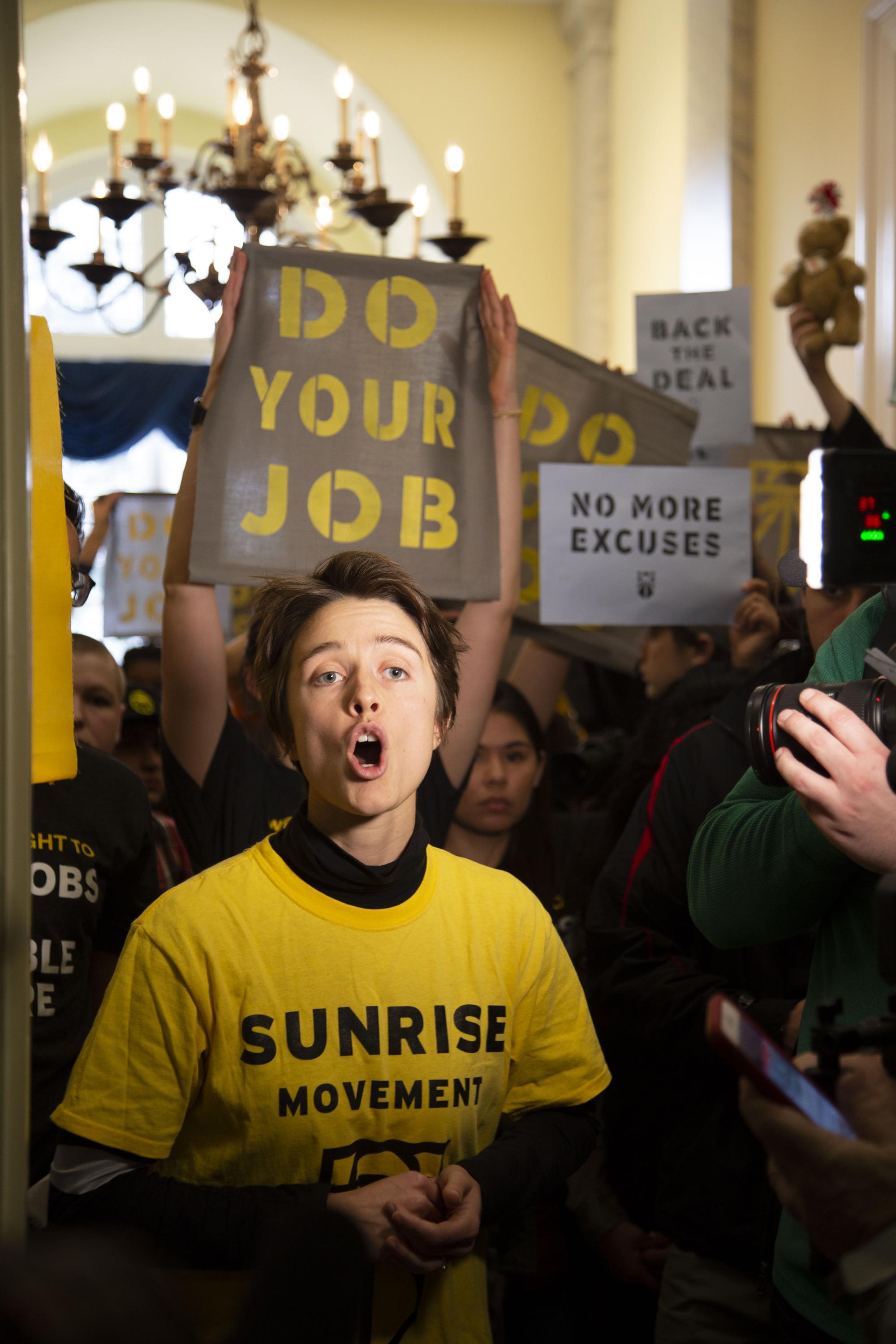 Sally Morton of California stood in Minority Leader Nancy Pelosi's office and shared the story of her friend, Lauren, who lost her home and belongings in the Camp Fire that ravaged the town of Paradise this November.
"I called Lauren and I told her, can I bring you water? Can I bring you food? I'll bring clothes. I can leave work. And she said, 'No, we're OK. My family made it out. Everybody's alive. But we have lost everything.' And it was in that moment, that I knew that I had to fight for climate for my life and for the lives of millions of young people."
In total, 143 were arrested during the sit-ins. Capitol police escorted those arrested down the front steps of the Cannon House Office Building where they were met by cheers, song, and the bellow of a single tuba.

Congress is scheduled to adjourn for its holiday recess on Dec. 14. The Sunrise Movement hopes that their efforts today will pressure Democratic lawmakers to back a Green New Deal before the years end.
Got something to say about what you're reading? We value your feedback!
Love what you're reading?
Fund our nonprofit journalism!
Give Now