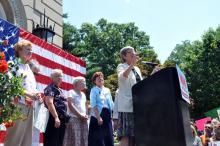 NEW YORK — The "Nuns on the Bus" are revving up their engines for another national campaign, only this time the Catholic sisters are taking their mobile platform for social justice along the country's Southern border to push Congress to pass immigration reform.
"The 'Nuns on the Bus' is going on the road again!" Sister Simone Campbell, head of the social justice lobby Network, told an enthusiastic gathering of faith leaders and charity activists at a Manhattan awards ceremony Wednesday (May 1).
"This time we're going out for commonsense immigration reform," she said to rousing applause.