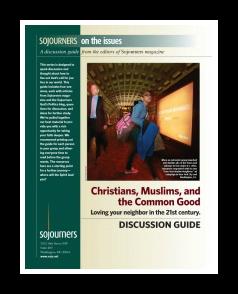 Christians and Muslims in Nigeria are working together for peace, says Gopar Tapkida in "The Momentum of Peace" in the August 2014 issue of Sojourners. Though tensions remain between the groups in Nigeria and across Africa, many are joining together in the name of nonviolence and reconciliation.
Sojourners' Christians, Muslims, and the Common Good: Loving Your Neighbor in the 21st Century is a study guide for engaging Muslim-Christian relations and the forces that divide and unite us. Based on articles from Sojourners magazine and the God's Politics blog, this guide is perfect for sparking discussion in small group and church settings.
Download the guide today to learn how to stand in solidarity with our Muslim brothers and sisters. As Tapkida writes, "We have to sustain the momentum of peace."