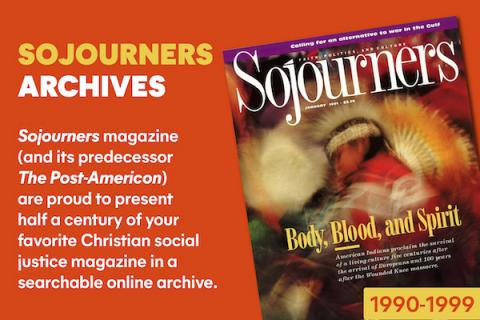 "You can go all the way through any seminary in the country and probably never hear the words 'union' or 'justice in the workplace.' Frankly, we want to change that," says Kim Bobo, executive director of the National Interfaith Committee on Worker Justice (NICWJ).
NICWJ is in the business of building and rebuilding ties between religion and labor. Founded in 1996, the Chicago-based organization has grown to a network of 37 local groups, committed to educating and mobilizing the religious community on issues and campaigns to improve wages, benefits, and working conditions for workers, especially low wage workers.
The committee's latest project focuses on future religious leaders—seminary students. The Seminary Track internship, a pilot program being developed in cooperation with the AFL-CIO, invites seminarians to explore, often for the first time, unions, the labor movement, and worker justice issues. Field placements will offer practical, intensive organizing experience, an opportunity to learn how unions operate, and a hands-on experiment in how religious communities can connect with workers and unions for mutual goals.
Bobo says the concept springs out of concern that young religious leaders, even those sensitive to justice issues, have very little knowledge of and no experience with the labor movement. "One of the most important things we can be doing is training future religious leaders to understand the labor movement and to understand the importance of working to support justice in the workplace."
Although in its beginning stages, the Seminary Track internship program has been certified as an alternative Clinical Pastoral Education (CPE) site within the Chicago area, allowing seminarians to do their field work requirement through NICWJ's office. Presently, 15 to 20 seminaries representing a range of denominations are linked to several of the local groups affiliated with NICWJ.
The focus on seminarians as potential future labor leaders has already been integrated into national labor consciousness. Workshops for seminarians were introduced at the AFL-CIO's 1997 conference. The Seminary Symposium, planned for the fall 1999 AFL-CIO gathering in Boston, will provide special workshops for seminarians while allowing them to be part of the overall convention.
ALREADY, THE HANDFUL of seminary students who have been forerunners of the program testify to its potential. Clint Twedt-Ball, a student at Garrett Evangelical Theological Seminary, is the program's first full-year field placement, based in the national office and working primarily with the poultry issues program. This took Twedt-Ball to North Carolina and Texas to attend press conferences, meet workers, learn about work conditions, help organize small groups to work with specific poultry farms, and talk to union representatives, workers, and church people to explore the possibilities for coalition building and implementing much-needed change.
Twedt-Ball, who intends to be a United Methodist minister, had no experience with unions at all before the internship. The experience "really changed the whole focus of my ministry," he says. "The church needs to work on changing the system and this internship has given me the skills to go about that."
On a layover en route to seminary, Melinda Bell, a United Methodist Mission Intern, is working with a group of local churches to establish a workers' center in Gainesville, Georgia, focused on education about rights in the workplace. Before this, Bell spent a year and a half in Hong Kong at an Asian migrant center where she organized migrant workers into collective savings groups for their eventual return to their native countries. From this experience of organizing non-native workers in Hong Kong and now working primarily with Latino immigrants in Gainesville, Bell describes the church's role in worker justice in terms of hospitality.
"When I try to explain my work, I talk about the church being hospitable to strangers, the hospitality of showing love and affection and giving compassion," she says. "The church needs to be at the forefront of this. Bridges need to be built instead of walls."
The uniqueness of the Seminary Track internship is in its potential not only to sensitize individuals involved in ministry, but also ultimately to affect the institutional churches. A clergy sharpened to God's concern for laborers as well as skilled to organize around this justice message could launch a transformative coalition between church and labor. Assuming that God's church is composed of the very people that labor, not institutional structures, it is necessary that the churches and church leaders do the good work of reaching out to workers, demanding fair and livable wages, safe workplaces, benefits, and the right to organize.
"What really strikes me about the importance of being involved in labor issues," Bell simply states, "is that this is where the people are and the churches need to join."
For more information, contact NICWJ, 1607 W. Howard St., Suite 218, Chicago, IL 60626; (773) 381-2832; fax: (773) 381-3345; nicwj@igc.org.