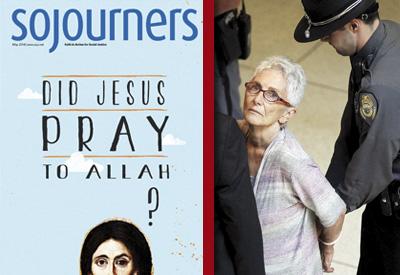 On Feb. 8, tens of thousands of people gathered in the North Carolina capital city, Raleigh, for what organizers called the Moral March. It was a follow-up to last year's "Moral Monday" movement that started in April 2013 when Rev. William Barber II, president of the North Carolina NAACP, and 16 others were arrested inside the North Carolina legislature for protesting sweeping voting restrictions proposed by the Republican-controlled state government.
I ALMOST DIDN'T go to the Moral March. I kept looking for excuses. There was all that work to be done for next week. I told my professor I'd miss Friday's preaching class. I hoped she'd chide me and I'd feel guilty enough to stay. Instead she said, "Great, go with my blessing." I told my tutor I'd miss tutorial. She said, "I'm so glad you're going to the march."
Why couldn't I go to a normal graduate school where no one left their rooms? But instead I went to seminary, and to Union, of all places!
I said, God, I'm crazy to go. Mild laughter was the only response. I glared at my reflection in the dark window. The reflection raised her eyebrow and said, don't be left behind now.
The little voice in the window stayed with me as I put an extra pair of thick socks in my bag. Don't be left behind, reading books about other people's marches and other people's spiritual revelations and other people's religions. This march is historic, my reflection informed me. Go and be part of history. This is your history.
This is your time.
But a "this is someone else's march" voice also lingered as I boarded the bus. I'm from California, and we've got a whole 'nother set of complications that seem pretty distant from North Carolina.
As we traveled for hours through the relentless monotony of shopping malls into a world of cold bare trees and peeling white picket fences, I felt we were going into a state that had been left behind. The people I knew from the Carolinas (outside of progressive bubbles such as Chapel Hill) had been glad to leave their home state and forge their own path to freedom—somewhere else.
Was it our absence, of moving "ahead" without taking our brothers and our sisters with us, that now made it so that we needed to go "back" to North Carolina, to see what could be done about a state that had been "left behind" to the whims of hyper-conservative GOP leaders? The past year has seen voting rights rapidly eroded by a ridiculously wealthy minority, and health care and welfare stripped. The platforms that enable poor people to survive are under attack, and the few ladders out of poverty are being systematically broken and burned. Was I going into one of the vortices that mobility, globalization, and the idolizing of individual "freedom" have helped to create?
But once we got there, it felt more like it was we New Yorkers who were in danger of being left behind as the "voiceless" people of North Carolina spoke for themselves. This was no missionary journey to save the poor. It was we who were at risk of falling behind.
We walked into the middle of a pre-rally already underway. Bishop W. Darin Moore of the African Methodist Episcopal Zion Church was preaching. The Spirit was upon him so strong that the others on stage were walking and dancing and almost crying behind him, in black suits and cufflinks and high heels. His sermon covered human rights and poverty, how prophets rarely get profits, the importance of reaching out to Republicans, and the wisdom of his mother. But the phrase that grabbed me around the heart like a new lover was when he asked, "God, why North Carolina?" and God said to him, "Why not North Carolina? Is there a better place for me to make my name known? A better place to show my glory? Has the ground not been perfectly prepared for me to show what I can do?"
And it was as if a wind had captured those gathered in that hall and none could stay sitting. I've read the Bible. I know at least some of the ways God might make ready a people prepared for the Lord. I knew to what the good reverend was referring.
When we went to the march the next morning, we knew that we were going to be part of history. But how could we know what it means to look behind you on a cold, gray morning in February and see rows and rows and rows of people, black and white, Asian and Latino, farm workers and eco-justice workers and civil rights activists, raging grannies and babies wearing shirts that said, "Forward together, not one step back"? How can you know what it is to hear a medical doctor and a rabbi and a Muslim brother and a Latina teenager all articulate with such eloquence the pains of poverty and inequality in North Carolina, and to hear in their stories your cousin and father and teachers and friends in California? You can't know until you are there. Not even they can know such things until they are there, speaking to you, seeing the truth of what they say in you, standing there, watching you witnessing them.
And when Rev. William Barber, the man who had started these marches against economic injustice and the demolition of voting rights, began to speak? I barely noticed him. He had such a staid, almost boring voice. But he kept saying things that you'd pay attention to simply because they were true. His speech gathered momentum slowly, carefully. The way one speaks if you want to make sure no one is left behind.
He went through the critiques that had been lobbed at us—when "I" became "us," I can't tell you—and dismantled them, one by one. As he did so, he brought us together, inviting us to this Welcome Table—gay and straight and Republican and all those who refused to be identified by their identity and sought to be known by their light. He prayed and hollered like a proper preacher by the time he was done, and there was no doubt in anyone's mind that this "moral march" was "moral" first and "march" second—or rather, that you can't have the march without the morality.
In that moment, I knew with no doubt that the term "moral" was no longer the prerogative of the Religious Right. We had reclaimed it. Even though all I had done was sit on a bus for a few hours and been welcomed by church folks—one church feeding us spaghetti for dinner, another cheese grits for breakfast.
We all greeted our neighbors and people started leaving when Rev. Barber finished speaking. You know, like church. Sermon's done. Time to get going.
Our bus back to New York was near the stage. As we made our way toward it, Barber started speaking again. Our banners were already folded. So when he said we should join hands with our neighbors, we were not distracted by slogans, and we could do so.
He invited us to sing. We all grasped arms, swayed, and sang, "We Shall Overcome," the song that keeps bathing a feverish world in hope. As we sang, "we are not afraid," the sun suddenly poked through the clouds. The warm light was so strong we couldn't ignore it. And the reverend tossed out whatever he was going to say and simply said, the light—the light has come out!
In that moment I knew there was no "behind." No one had been left behind. Not me, not North Carolina, not California, not New York, not the highest Himalayas, or the deserts of Death Valley. In this light, there was only the irruption of grace, in which there was no backward or forward. In such a moment, how could I stop the tears that glistened on my cheeks? And why would I?
We know who we are. We are whole. We are beloved. We are together. We are taking the high road, where no one is left behind.
The bus was quiet as we rolled out of Raleigh, which was once again covered in long shadows as the sun hid behind the clouds. Some of us were already planning a return to support plans for a 2014 Freedom Summer and an attempt to ensure that the poorest people in North Carolina had the IDs now necessary to vote. But in that moment, most of us were basking in the experience of having received a profound blessing.
North Carolina's Moral March was no longer someone else's movement. It was no longer the South's movement to hold onto voting rights.
We New Yorkers could only receive the blessing of being reunited within the body of our God when North Carolinians remembered how to stand together and extended their gracious hospitality to us, that we might stand with them. It was, I knew, an invitation that knew no time limit. "Together forever, not one step back"—the phrase circled in my mind like a little love song.
Did I misunderstand the slogan? I wondered. Wasn't it "forward together"? Maybe. Kairos is funny that way. We don't always remember "back" or "forward," "north" and "south," "self" and "other" when God's time overcomes our erroneous notions of divisions.
As night dawned, the reflection in the bus window returned, and with it that little laughter I had heard a scant 48 hours earlier. It would be late when I reached New York. But I would be right on time to continue traveling with those who keep seeing and seeking the Light—together. Forever. 
Sara J. Wolcott, a student at Union Theological Seminary in New York, has worked with the Institute for Development Studies at the University of Sussex and in India.